Guy Pearce Emmy Press Room Interview
Guy Pearce Has More Racy Comments About His Kate Winslet Love Scenes
Mildred Pierce's leading lady Kate Winslet snagged an Emmy for the miniseries tonight, and so did her costar Guy Pearce, who used most of his acceptance speech to gush about his love scenes with her. When he stopped by the press room, he had even more to say about his racy comments, what his wife will think, and wanting to know how he stacks up next to Leonardo DiCaprio.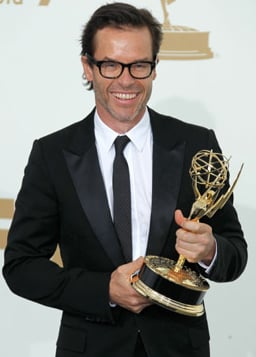 On what his wife thinks of his speech: "I'm not sure yet. I haven't asked her. She probably thought it was funny. I'm sure she'll tell me when I get home."
On why the sex scenes with Winslet weren't awkward: "Look, because it was Kate, yes, we did have a good time. We had a good laugh really. They're nerve-wracking to have to do, but she made it really easy, I have to say."
On who gave him love scene advice: "I don't know that anyone has given me advice about love scenes. Maybe I need some, I'm not sure."
On whether Winslet has told him how his kissing skills compare with Leonardo DiCaprio's: "She hasn't. I keep asking her but she refuses to tell me, so there's obviously some bad news in there. She might tell me tonight if I get her drunk enough."
Get all of our Emmy press room stories right here!