Guys With Kids TV Show TCA Panel
Jimmy Fallon Explains What a DILF Is
Jimmy Fallon isn't starring in NBC's Fall comedy Guys With Kids, but he is behind the show as executive producer and creator. The late-night host couldn't physically be at the TCA panel for the series, but he participated via satellite. Even on a screen, Fallon managed to crack up the press and make the premise for the sitcom sound adorable rather than cheesy, and he clarified — for those who were not aware yet — what a DILF is. Read on for that, and what cast members like Anthony Anderson and Tempestt Bledsoe had to say about the show.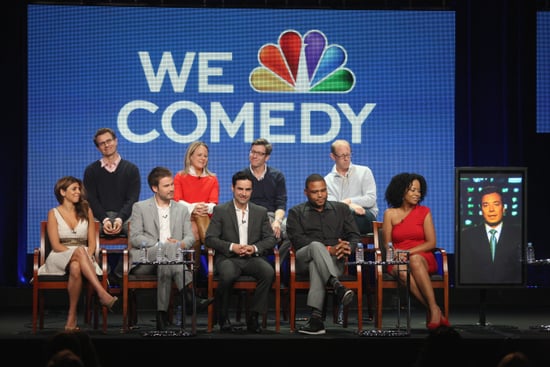 Guys With Kids was originally titled DILFs and was probably changed for obvious reasons, but it didn't stop Fallon from clarifying the acronym. First he said that the inspiration for the show came from "seeing young, good-looking guys who were embracing the role of dads. DILFs. If you know what a MILF is, you know what a DILF is," he explained. Not that he needed to, and for what it's worth, I'm glad he didn't totally spell it out for us.
Bledsoe, who played Vanessa Huxtable on The Cosby Show, talked about returning to NBC and a network sitcom. She said she was attracted to the "positive, funny, warm" feel of the Guys With Kids script and liked that the series shows that it's "hip and cool to take care of your kids." Bledsoe plays the wife of Anderson's character, and in a cute moment, Anderson exclaimed that a bonus to working on the show is getting to kiss his childhood crush.
Anderson — who was asked to join the cast by Fallon because they're friends — is the only one of the three guys in the cast who is a dad in real life. He said working on the show made him want to have more kids, and it sounds like his costars Jesse Bradford and Zach Cregger are getting the hang of it. Both men said they liked the experience of having infant costars, with Cregger saying that babies can't be anything but authentic, and "after a couple of hours, your costar likes to put their hand in your mouth."
Fallon isn't concerned about the stigma of Guys With Kids being a multicamera sitcom, and he said that people were asking why it had a laugh track. "That's not a laugh track," he explained. "It's what happens in front of a live studio audience." And in classic Jimmy Fallon fashion, he cracked that he wants James Earl Jones to do the voice-over explaining that.
To see more pictures from the panel, just read more.