Haley Reinhart Voted off American Idol
Was the Right Contestant Voted Off American Idol?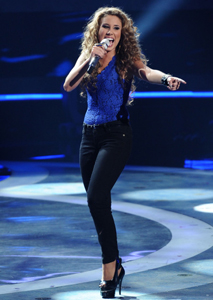 Well, there you have it: our two American Idol finalists. Haley was voted off tonight, clearing the way for Scotty McCreery and Lauren Alaina to go head-to-head in the final next week to win it all. After some tearful hometown visits, Ryan Seacrest announced Haley as the contestant voted off.
I'm kind of surprised, since Haley got such good feedback from the judges, but America has spoken, and Haley has been eliminated. What do you think of the results — do you think Haley was the right person to go, or should Scotty or Lauren have gotten kicked off so Haley could be in the final two?
Photo courtesy of Fox