Hall Pass Movie Preview Starring Owen Wilson and Jason Sudeikis
Hall Pass Trailer: Wilson and Sudeikis Want to Break Free
Big screen infidelity: so hot right now. In the latest Farrelly Brothers movie, Hall Pass, Owen Wilson and Jason Sudeikis play a couple of married men who can't keep their eyes off other women. When their wives (Jenna Fischer and Christina Applegate) are fed up with their ogling, they each grant their husbands what they think they want: a hall pass. This means one free week to act single, try to hook up with other women, and then come back to their spouses (who hope that the freedom will make them better husbands).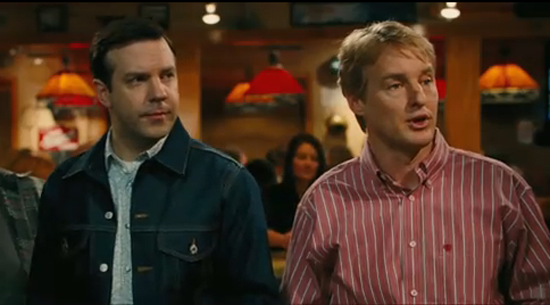 From the preview, it feels like the subject matter is supposed to be seen as light and funny, but Wilson and Sudeikis's characters just come off as creeps. The wives seem pretty blasé about it as well (I don't know if I'm rooting for them to see some action too, or if that would just make it worse). There's a couple of mildly funny parts, so I'm genuinely curious to see if the Farrelly Brothers can make infidelity hilarious (and if Saturday Night Live's Jason Sudeikis can carry a lead role).
Watch the trailer when you
.