The Hangover Part II Teaser Trailer, Starring Bradley Cooper, Zach Galifianakis, and Ed Helms 2011-02-24 11:34:27
The Hangover Part II Teaser: The Wolfpack Is Back — But Where's Doug?
The teaser for The Hangover Part II is here! And judging by this first look, my previous assumptions about the film aren't that far off. For one, the boys have indeed added a monkey to their posse during their trip to Bangkok, yet Doug (Justin Bartha) is still no where to be seen. In fact, this footage only focuses on Phil (Bradley Cooper), Stu (Ed Helms), and Alan (Zach Galifianakis) — good news for those of you who prefer the boys without their fourth member.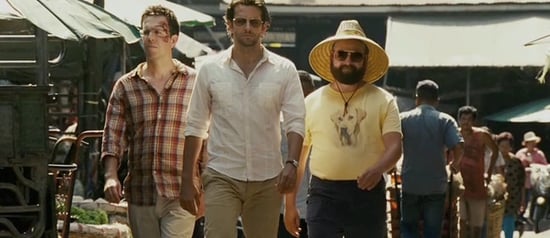 The clip starts off by showing quick glimpses of the trio's dirty Thai digs, followed by a shot of them slowly strutting (set to Jay-Z, naturally). Keep in mind this is just a teaser, so we don't actually see any of Stu's wedding or those rumored celebrity cameos, but it has me excited nonetheless! Take a look when you
.