Hank Azaria Talks About Free Agents at Summer TCA
Hank Azaria and Cast of Free Agents Insist the Show Is an "Anti Romantic Comedy"
NBC's Free Agents hit the stage of the Summer TCA, and stars Kathryn Hahn and Hank Azaria joined other cast members and showrunners to talk about the half-hour workplace comedy. Though Hahn and Azaria's characters start off the show after having a one-night stand, the producers insisted it's really about the whole ensemble of actors and the way a close-knit work environment is like being in a "fishbowl." Check out some of the details from the panel below.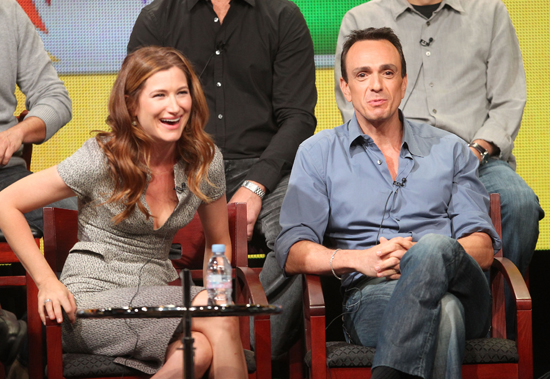 The super charming Hahn (who adorably snorted while she laughed multiple times) said she likes playing her "so together" character Helen because she's usually cast as "the girl with the long armpit hair in movies." While Helen's "armor is so polished," underneath she's "just a mess" and in total denial about the death of her fiancé. The lives of the other characters are equally messy, like that of her costar Azaria, who plays Alex, a man going through a painful divorce. He seemed to be able to commiserate: "When I was divorced, I was doing worse than my character."
Despite the underlying tension between Helen and Alex, they start the show already having slept together, so the "romantic tension is in reverse," according to exec producer John Enbom. Azaria said the show is more of an "anti romantic comedy," because the characters are people who have lived through romantic comedy via their previous relationships and it didn't work out for them. But there is still plenty of territory for those two characters to explore, according to Hahn: she said the relationship "will ebb and flow."
Keep reading to find out more about the Free Agents panel.
Anthony Head (Giles!) plays Helen and Alex's boss on the show and says his character's behavior is "undoubtedly inappropriate on every level." It seemed like he's relishing the opportunity to play someone who speaks pretty freely: he says he's having "a lot of fun playing somebody who doesn't have a care in the world."
The office is that of corporate publicists, so their jobs are to deal with damage control. Azaria commented that it seems like "a weird way to make a living . . . even weirder than being an actor I think." The professional aspect is important, because while the characters are good at their jobs and very intelligent, they're "emotional morons," said star Mo Mandel. Added Hahn, "their personal lives are out of control."
Producer Enbom tried to express the humor of the series, comparing it to '40s screwball comedy. Enbom said he wanted to make the show "very smart and adult." He added that they have a roster of intelligent characters who are "smart people doing their best in crazy circumstances." Director and exec producer Todd Holland added to the sentiment with a compliment to the cast, saying Free Agents is "blessed with incredibly smart actors."