Hansel & Gretel Witch Hunters Review
Hansel & Gretel: Witch Hunters Isn't a Great Movie, But . . .
Not every movie can be Schindler's List-caliber, but would we really want that, anyway? Hansel & Gretel: Witch Hunters is a preposterous movie, but the blood-soaked fairy tale is more than aware of its silliness and embraces it. Jeremy Renner and Gemma Arterton star as the titular brother-and-sister duo, but the classic characters are a little different than you may remember. Their tale begins traditionally, with their miraculous escape from a witch who lures them in with her candy-coated cottage. Now grown, the siblings' childhood nightmare has catapulted them to fame as the most successful witch hunters in the land. The movie picks up when they are commissioned by a village to investigate the disappearance of children. It's not the most imaginative concept, but that doesn't mean the film lacks creativity. Read on to find out why Hansel & Gretel: Witch Hunters may be more amusing than you think.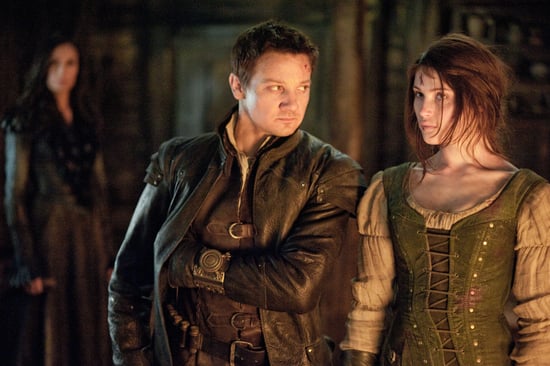 The acting isn't genius. Wry one-liners and overblown dialogue are status quo here, and for the most part, this isn't a brilliantly acted work of art.
But . . . Watching Oscar nominee Renner spit out lines like "If you're gonna kill a witch, set her *ss on fire" is worth the price of admission. There's something fantastic about the way he clearly doesn't take himself too seriously to do a film like this, and it's a pleasure to watch him as the grumpy, suspicious Hansel.
It's ridiculous. The project is produced by Will Ferrell and Adam McKay, so that should be an indicator that this film is no ordinary thriller. Hansel is diabetic because of all the sugar the witch made him ingest when he was a kid, and the leather-wearing hunters have homemade medieval versions of machine guns and defibrillators. The latter is used to bring a fallen troll back to life.
But . . . It's the perfect antidote to all the three-hour dramas flooding theaters during award season. Hansel and Gretel take their jobs seriously, but audiences know better than to take this movie seriously.
To find out the other ups and downs of Hansel & Gretel: Witch Hunters, just read more.
The special effects aren't mind-blowing. The movie is in 3D, but it's kind of a waste. Sure, it has its moments during action sequences, but it's more distracting than anything.
But . . . The fighting scenes are really entertaining, particularly with Hans Zimmer's score. The witches are truly gruesome (especially Famke Janssen, who transforms into the hideous Grand Witch) and have got wicked battle skills. At one point, one crafty witch hops on her broom and shoots backward through a wall, while another one stealthily races through a forest with cheetah-like speed. I never saw any of that in The Wizard of Oz.
It's needlessly gory. The dramatic death scenes don't end after Hansel and Gretel push that first witch in the oven. One guy gets eaten from the inside by maggots, another is drawn and quartered, and another's head explodes like a tomato when he gets troll-stomped.
But . . . All those things are awesome. As long as you know what you're in for, Hansel & Gretel: Witch Hunters is a bloody good time.