Happy Endings Interview With Eliza Coupe, Damon Wayans Jr.
Eliza Coupe and Damon Wayans Jr. Joke About the NSFW Way Their Happy Endings Characters Got Together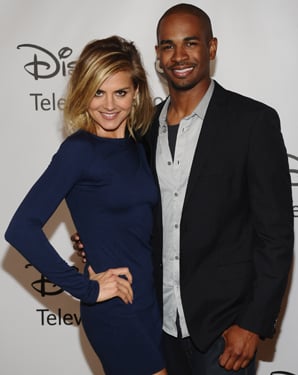 Eliza Coupe and Damon Wayans Jr. play hilarious married couple Jane and Brad on Happy Endings, and the actors are just as funny in real life as they are on the show. When they recently hopped on the phone to chat with a group of reporters, they cracked everyone up with their answers to questions about things like how Jane and Brad met, how they keep straight faces among such funny costars, and where they'd like to see their characters go.
The cast is full of some pretty funny people. How do you guys manage to keep straight faces?
Damon Wayans Jr.: I have no tricks. I laugh whenever it's funny, so I waste time. And we actually all try and make each other break, and we like to actually stay in there longer just to make each other laugh. And I don't really think anybody's mastered a technique on not laughing, it's just fun. I like that.
Eliza Coupe: I keep a knife in my pocket at all times and just stab myself when I'm going to laugh. And it gets a little bloody, it's a little weird, but I am stabbing my leg during most of the show. So . . .
To find out more of what the Happy Endings stars had to say and Wayans's NSFW idea about how Brad and Jane met, just keep reading.
Are we ever going to find out how Jane and Brad met, like a flashback of them meeting and falling in love?
EC: I don't know. I'd like to see that too.
DW: Yes, I kind of feel like we met at some frat party. She hooked up with like at least three or four guys before me.
EC: Yes, that night, that night.
DW: Yes, that night, that night. I mean, we're just wasted and I'm seeing this girl and [I'm going] to try and hit that. And then I did and we fell in love.
EC: Yes.
DW: No, no, I was like, "I want to try and marry that." That's what happened. I walked in on her with three other dudes, [and] I was like, "Her. She's the one."
EC: Yes, yes.
DW: And then we went to the chapel and got married. That's what I think happened, I'm not sure.
EC: I think so too. When you saw three men entering me at the same time, you were like, "I want to — that's my wife. That is my wife."
DW: I've got to give her my last name because she is strong.
EC: She is strong, she can take anything that comes at her, literally.
DW: No, I don't know. I'm really looking forward to them doing a flashback of us. I think it's going to come soon. And I would love to see that. I would love to see where we — how we met, you know, the genesis of Jane and Brad.
Are there any similarities between yourselves and the characters you guys play?
DW: I mean, I don't know, I'm kind of a positive guy. Brad just seems like a positive guy, he likes to laugh a lot and doesn't really take anything too serious and I think I'm like that, yes.
EC: Yes, Jane is incredibly neurotic and a bit of a neat freak and I'm definitely that, it just manifests itself a little bit differently. And Jane really is very put together — clothing and hair-wise — and I'm not that, I'm a bit of a mess. Right now currently I'm wearing sweatpants that may not have been washed this year.
If you could choose the next place your characters would go, what direction would you like to see them take?
DW: I want to see Brad be a badass. Like he's just not necessarily thugged out, just kind of like — like Mr. T'd out, you know. You just pity the fool. Like I would love that. Yes, just like a leather jacket, maybe some like feather earrings. Stuff like that, you know, that'll scare people.
When you first got involved with the show, what about it really got you excited?
DW: My audition got me excited for it, when I went in and I auditioned in front of David Caspe, creator of the show. And I walked in there and the first thing he said to me was "F around," but he used the real bad word when he said it.
EC: Right, right.
DW: And so when I just got in I got to do whatever I wanted, I didn't even have to really stay on script. So I love that and that's what made me fall in love with the show.
EC: I have to say the same thing. It was really great to be able to go in and, you know, I had to audition with the ending monologue of the first episode, the pilot episode, and it was really fun when David Caspe was like, you can just put it in your own words, say it how you would say it. And I basically, you know, did a soliloquy at that point, made it really long and did my own thing. But it was really fun to just have that freedom.