Harry's Law 2011 Winter TCA Panel Quotes and Details
Kathy Bates and David E. Kelley Take TV Together For Harry's Law
When new midseason series Harry's Law popped onto the stage during the Winter TCA, we got a visit from a couple of movie and TV veterans, respectively: Kathy Bates and David E. Kelley. The star and its creator, along with the show's other stars like Nate Corddry and Brittany Snow, talked about the darkly comedic law drama, about a lawyer (Bates's character Harriet, aka Harry) who sets up an unconventional law practice in a run-down Cincinnati shoe store.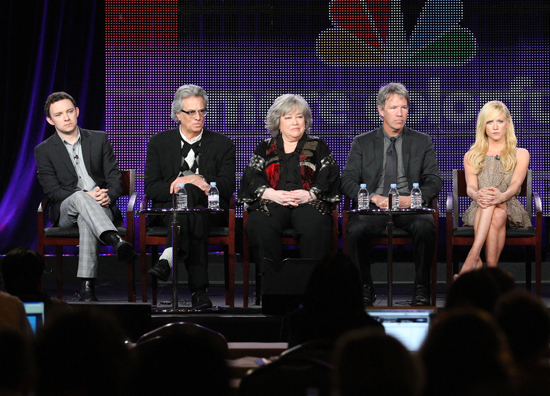 The character of Harry was originally written to be a man, Kelley said, describing the original vision of him as "a curmudgeonly, cantankerous old grump." When they couldn't find the right actor, it was opened up to a woman, and executive producer Bill D'Ella's wife suggested Bates. And it wasn't hard for Bates to come around to the character. When reading the pilot, Bates said she loved that "she had her feet up on the desk, smoking pot and watching Bugs Bunny. After that I was in."
When asked whether having an older woman leading a TV show was a tough sell, Kelley credits his star for it not being an issue. He said, "It's one thing to have a 60-year-old lead, [but] it's quite another to have Kathy Bates as your lead." Once Bates was in, there was no hesitation from the network.
I was excited to see Snow on the panel, and she talked a little bit about her character Jenna, Harriet's assistant, whom she described as "quirky and crazy and all over the place." The adorable Snow was clearly in awe of Bates, calling her "the epitome of a class-act," and said that it's been a pleasure learning from the actress she calls "a legend."