Harry Potter Interview With Oliver and James Phelps
Harry Potter's James and Oliver Phelps Talk Playing the Weasley Twins and Reveal Their Favorite Potter Scene
The Harry Potter films may have come to an end, but the legacy certainly lives on — and the stars of the franchise are still celebrating. The cast headed to the Wizarding World of Harry Potter in Florida over the weekend to commemorate the release of Harry Potter and the Deathly Hallows Part 2 on DVD, which is in stores now. I caught up with James and Oliver Phelps, who play the mischievous twins, Fred and George Weasley in the series. The brothers shared some of their favorite scenes and fan moments, and revealed one very strange prop that they swiped from the set.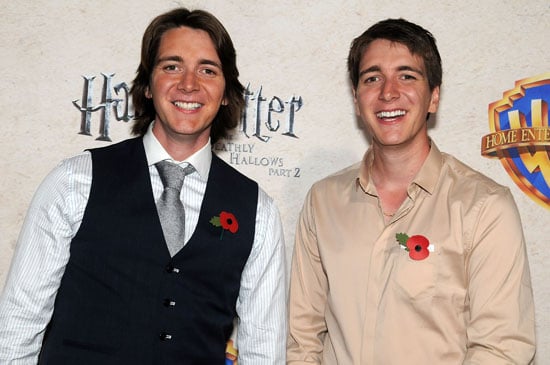 BuzzSugar: Now that the last movie is coming out on DVD, does it feel like Harry Potter is really over?
Oliver Phelps: Not really, no. There's always something else that's happening with Potter. There's this one, then there's the Warner Brothers studio London tour where you can go see the sets and everything, which opens at the end of March. And there will probably be other stuff.
Buzz: What do you miss the most about making the movies, and what do you miss the least?
OP: Miss the least is getting my eyebrows bleached, definitely. But miss the most? I think just the regularity of it. You knew where you were going to be, for a couple of months a year filming Potter, and knowing that that was coming up. [Not having that] takes some getting used to.
JP: What I miss the most is hanging out on someone else's credit card [Laughs]. We are all good friends, so it was just hanging out with your mates. So I'll miss that, but we still keep in contact. What I'll miss least? Maybe the traveling. I'm not a big fan of the traveling. People ask, "If there's one spell you could take, what would it be?" A port key, definitely. Because then I could easily be back in England, and that kind of thing.
Buzz: How surreal was it to film the scene in the final movie where Fred dies?
OP: It wasn't nice. It wasn't nice at all, because one thing we do with [director] David Yates is try to get into the moment, try to relate to something. Which I did, and it came over really well, I think, on camera. But it was weird, not only seeing your pretend brother in the film, but your actual brother, all pale and stiff. I'm glad we didn't have to do that too often.
Buzz: Would you say it was easier to do the scene with your real brother?
OP: It made it easier to do, but probably harder as well to keep it together.
Buzz: Did you get to keep any props from the set?
OP: I wish we did, I really wish we did. I'd love to take the wand, because each wand is individual. They're very strict on having that back, but that would have been great if we were able to keep those. I don't know what I'd do with it. I'd probably put it in a case, put it on my wall or something, but it would be nice to have that piece. I did keep the prosthetic ear, because George loses his ear, which looks really odd. It's at the back of my script. When you open my script, it's stuck there, which looks pretty disgusting.
To see what James and Oliver had to say about growing up on screen and their favorite Potter scene, just read more.
Buzz: What was it like following the trajectory of your characters from pranksters to young men?
JP: It was cool because normally when you do a film, the emotion of the character is the same all the way through. But what's the joy of playing [Fred and George] is that you can show they're predominantly pranksters, they love to have a laugh, then you see that they're entrepreneurs, and then you see they've actually got a softer side as well, like in Deathly Hallows Part 1 when George has his ear blown off, you see the softer side of Fred. We were able to take the characters from one extreme to another, yet still be in the same character, and everyone is still able to understand them.
Buzz: What lessons did you learn as actors making these films?
OP: It was certainly a learning curve along the way. We learned so many things like, acting-wise, just watching all the older guys in the cast do their thing, and you can pick up so many tips. The best is that you can go and talk to them about it, which is absolutely great to be able to do.
Buzz: What's your favorite scene that you guys were in?
JP: For me, it would be the Marauder's Map scene in The Prisoner of Azkaban. Because that's like the first time you see Fred and George, as like, you always know they're pranksters or whatever, but they actually have stuff of importance they're willing to pass on. But on a personal level, our grandfather read the book, and said to us, "This will be good. You've got to get that scene, get that scene and you'll be sorted." So that was kind of it, but unfortunately he passed away a couple of weeks before we shot it. But on an emotional side, that means so much to me because it was him who came up with the idea initially of cutting each other up, and it became our trademark all the way through.
Buzz: Is the fan mania bigger here in the states, or overseas?
James Phelps: It's big everywhere we go, which is quite a special thing. I guess it's just the cultures in general, and how different cultures are different. In the Far East, for example, they'll cheer and everything, but as soon as you wave, everyone stops talking and just waves back. Over here, you can kind of work them into a bit of frenzy. I'm not flogging my ego or anything, they're just very passionate about it.
Buzz: Can you tell me about one of your craziest fan moments?
OP: When we were in London, people were crying and everything. They saw it as the end of their childhood. But I think when it all comes to a head, it's over for them as an audience, really. There's no more new premieres and stuff. That was quite emotional for a lot of people.
Buzz: Do you guys want to continue working together or are you ready to go your separate ways, career-wise?
OP: Both. Originally, we were going to do something totally different from each other, but listening to the older guys, they said, "No, you should use that. You've got something different from the competition. If you have anything different from the competition, then use that."
JP: It would be good to work apart for a little bit, because we'll probably kill each other if we keep doing this [Laughs].