Hawaii Five-0 Comic-Con Panel With Daniel Dae Kim and Grace Park
Hawaii Five-0 Says Aloha to the Comic-Con Crowd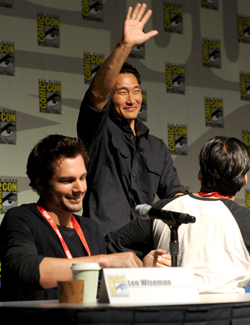 Jin is back and alive! Indeed, that seemed to be the Comic-Con fan reaction when actor Daniel Dae Kim came out to promote Hawaii Five-0. During the panel, he addressed the Lost finale and his new role as Chin Ho in the remake of the iconic cop series. He was joined by director Len Wiseman and costar Grace Park, whose appearance got Battlestar Galactica fans buzzing. I've already given you a peek at what to expect from the upcoming Fall series, but here's what they had to add:


Director Wiseman showed several exclusive clips which were full of high-adrenaline action. Car chases, vans barreling through buildings, explosions — the footage felt more like a movie than a TV show, which is thanks to Wiseman's big-screen sensibility. In fact, this is the first time he's ever ventured into television.
Park is actually playing Kona in Hawaii Five-0 — a role that was originally played by a man. It's not the first time she's taken on a guy's part (her character in Battlestar was also male first). Park responded that she feels like it's just a sign of the times, and more roles are open to women now other than just "a wife, mother, or prostitute."
The film's producers assured the audience that the show would satisfy every kind of TV watcher. They promise a new case every week, but there will also be a big mystery revealed over the course of the series for those viewers who stay loyal.
To hear more about the series, read more.
Although Alex O'Loughlin couldn't make it to the panel, writer Alex Kurtzman did touch on why they chose him for McGarrett: "He's very focused, and it was like, 'Wow, this is a guy who could really be a leader of a team.'" As for the classic part of Danno, Kurtzman said they didn't cast Scott Caan until literally 12 hours before shooting began.
Fans of the famous theme song, fret not. Kurtzman revealed that they invited the same musicians who performed the original to come back and re-do it once more. The audience ooo'd in approval, and then to prove his point, Kurtzman showed panel-goers footage of the recording session. Daniel Dae Kim joked, "I'm just happy to be on a show that has a theme song."
Before the panel concluded, DDK took a moment to talk about the Lost finale and the death of his character Jin, saying that he's satisfied with how things ended. "The heart of Lost was the redemption [the characters] were looking for, so when they found a resting place in the finale with one another and themselves, that was the moment I was looking for." As for how Jin and Sun said goodbye: "I felt like Jin and Sun were bound to have a tragic ending, because they had so many ups and downs. There was something poetic about how they gave up their lives for one another in the end, and that's the ultimate sacrifice."
Be sure to check out all of my Comic-Con coverage and follow me on Twitter for live updates!