Heejun Han Voted Off American Idol
American Idol: Was the Right Person Voted Off?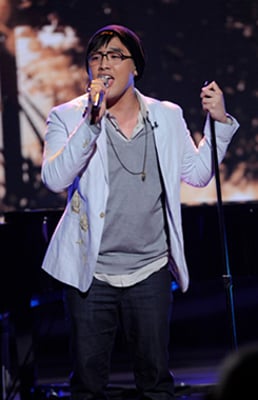 In a move that was, well, not really that surprising to anyone, Heejun Han was eliminated from American Idol this week. But first, while the contestants sweated it out under the harsh stage lights, we were treated to performances from Idol judge Steven Tyler, Nicki Minaj, and last year's winner, Scotty McCreery.
Once the fun and games were over, it came down to Skylar Laine, Hollie Cavanagh, and Heejun. Heejun just smiled as his name was called, which just reconfirmed what the judges had to say about his inevitable exit. "Let the record show that you knew this was coming," Steven said solemnly, before denying the use of the judges' one save card for him.
What do you think, did Heejun's refusal to take the competition seriously cost him his chance at the title, or should the improvement he showed last night have been enough to keep him in the game?