Helen Hunt Interview at Oscars Luncheon
Helen Hunt Says The Sessions Is Interesting Beyond "the Obvious Naked Reasons" at Oscars Luncheon
Best actress nominee Helen Hunt stopped by the press room at today's Oscars Luncheon, and she chatted warmly about her film The Sessions, as well as the woman she portrays, Cheryl Cohen-Greene. She shared what it is she likes about the real-life woman so much and the sweet compliment she got from her after shooting the movie.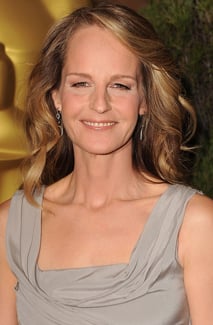 On the reaction to her film The Sessions: "I find that this movie makes for interesting conversation, and not for all the obvious naked reasons. Once people have seen it, they go up to me and go like this [puts her hands on heart]."
On what she likes about Cheryl Cohen-Greene: "Other than my daughter, who is 8 and radiating that kind of positivity, I've never met someone [like her]. . . . It's the lack of weirdness and the pure enthusiasm that she had. I feel like I got some of it. I wish I had even gone further."
On Cohen-Greene's reaction to Hunt playing her: "She wrote me a note when the movie was done, saying, 'Thank you for understanding my intentions with Mark.'"