The Help Cast Celebrates in the SAG Press Room
Viola Davis Gets a Little Help From Her Costars in the SAG Awards Press Room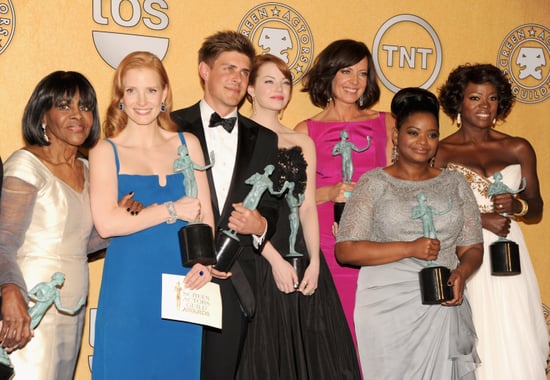 After accepting one of the evening's most coveted awards, for outstanding performance by a cast in a motion picture, the stars of The Help paid a visit to the SAG Awards press room. The film was one of the night's biggest winners, with Viola Davis and Octavia Spencer also taking home the Actor awards for their leading and supporting roles in the film, respectively. Viola was fresh from snapping up her own individual award and fielded most of the questions backstage. She weighed in on winning the honor over one of her idols, Meryl Streep, and how The Help actually helped her find her own voice. Here are some highlights:
Viola on how she personally related to her character: "During the course of promoting this movie, and having to kind of defend my choices in playing a maid in 1963 Mississippi — [it's] 2011 — and I've had to find my voice. I've had to find my voice as a woman of color, an artist, and I never thought that I would ever be put in a position like that. I've always been kind of in the background, a character actor doing four or five scenes. And all of a sudden, I was being put to the test, kind of being pushed against the wall, kind of making me feel what Abilene, Minnie, [all of them] felt in finding their own voices, and not keeping silent anymore. Not staying in the background."
Viola on how she felt about "beating out" Meryl Streep: "I feel pretty overwhelmed with my name being called. I just don't see the 'best' thing going on. It's hard — every time I start a job ... I feel like I've never done anything before, everyone's going to find me out to be the hack that I am. It's hard to me to think that I triumphed over Meryl Streep. I just think that a few more people checked my name in a box for whatever reason, and this time, I fooled them. You know, I bought a little time to maybe suck in my next role or something."
Viola on why The Help is important: "For me, and I know for Octavia, and for Ms. [Cicely] Tyson, they are the stories of our mothers, our grandmothers, and we absolutely feel like these women's stories are worth it."