The Help Cast on Female Bonding at Critics' Choice Awards
The Help Cast Celebrates Their Critical Success and Talks Late Nights Bonding Over Moonshine
The cast of The Help earned the best ensemble cast win tonight at the Critics' Choice Awards, and the ladies from the film were in a reflective mood as they talked about taking on the sometimes-painful movie, as well as bonding off the set over moonshine and fried butter. Emma Stone, Viola Davis, Octavia Spencer, Allison Janney, and Ahna O'Reilly were among the actresses who stopped to talk with reporters about the latest honor for the film, which has already scored several awards and nominations.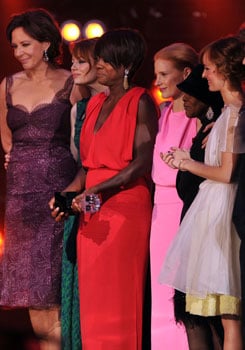 Octavia on how much prejudice still exists today: "We've made progress, but there is still progress that has yet to be made, and thank god for a film like The Help that is making us talk about it."
Viola on the debate the movie sparked: "I agree with Octavia . . . I felt it absolutely once the film came out, that people were outraged that these types of films are still being made, and the wonderful thing that came out of that was just great discourse. I hope that this kind of encourages to keep making films with a cast that looks like this: a racially diverse cast, a female cast, because I think that would be the biggest statement of progress in and of itself."
Allison on getting into character:"I would say that Tate [the director] was wonderful in getting us all down there early before we shot and making us watch this wonderful documentary called Eyes on the Prize that really opened our eyes to remind us of what a terrible time that was in our history in America . . . I'll never forget it. It was truly inspiring . . . and just the heat down there, that played a huge part in just making us feel very much a part of the South. That's a whole character itself, 113 degree weather . . . There was so much that we went through to try and re-create that time in history . . . it made for a really delicious Summer of just love, and pain, and everything that it should be."
Ahna O'Reilly on taking characters from a beloved book: "I think we all were so excited about the book and loved it, but definitely there was an enormous amount of pressure. You know, so many people had read the book and were attached to their ideas of these characters, but you know, it's such a wonderful team of women and there was so much chemistry that we didn't have to create. I think, probably, from the get-go everyone would agree that we knew it was something special whether a lot of people saw it or not. And thankfully, they did."
Viola on the friendships they formed off set: "Thank god for moonshine, lemon pie, fried butter on fried bread . . . I think we needed to cut loose on this one. I mean, we needed to escape from this time period to remind us that we weren't really in this time period. And, really, being in Greenwood, MS, instead of on a sound stage in Los Angeles, we were kind of forced — happily forced — to be with each other and have a lot of laughs with apple-pie moonshine at night. And I think that's what you see. That love, that bonding that happened during those fabulous times. That's when we really built an ensemble."