Homeland Cast Interview in Emmy Press Room
The Homeland Cast Talks About Ending Mad Men's Oustanding Drama Streak
Homeland's victory over Mad Men for outstanding drama series was one of the big upsets at the Emmys this year, and star Claire Danes couldn't help but note that it felt nice. The first-time winners were happy to be in the press room, and aside from reveling in the win, star Mandy Patinkin also took time to recognize the cast members, particularly Danes.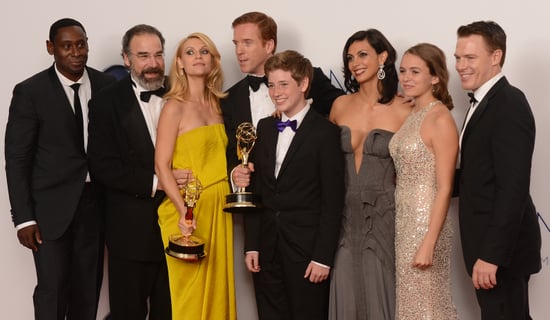 Claire Danes, on beating Mad Men for best drama: "We didn't make our show just to undermine them. We're delighted and thrilled and a little startled by this. I don't think anyone was expecting to be recognized in this way right off the bat. But it feels pretty nice."
Mandy Patinkin, on Danes's impressive acting: "Being with Claire has been one of the true gifts of my life. I watch her like I'm a first-grade student trying to figure out how to do it, because it's like a magic trick, watching her. And not just Claire, but the whole company, everyone. Every actor that's in this ensemble, every one behind the camera. It is one of the most glorious companies of people. It is one of the great gifts of all of our lives to be a part of this."