Homeland Season 2 Spoilers
Homeland: When Brody Met Obama and Other Funny Things the Cast Spilled
Homeland is one of the most intensely dramatic shows on TV, but that doesn't mean the cast takes themselves too seriously. Claire Danes and Damian Lewis, who play adversaries Carrie Mathison and Nicholas Brody, respectively, took the stage at TCA to talk about season two of their gripping political drama. While we did hear some juicy tidbits about the upcoming episodes, the most surprising thing about the session was that the panelists were so funny. Read on to find out the jokes that were cracked about President Obama's love for the show, Danes's pregnancy, and more.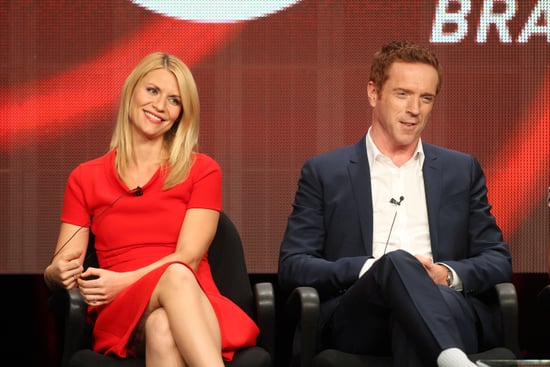 Lewis established himself as the comedian of the panel, even as he described his character's challenges in the upcoming season. Where Brody had "a degree of damage, which elicited some sympathy" in season one, Lewis said that won't be the case this year, which he put very frankly: "He's more knowingly juggling balls this season. . . . But, essentially, he's everybody's b*tch. He's pretty f*cked."
Danes's pregnancy came up, not just in terms of whether it would affect the show (it won't; Danes said that "Carrie remains fervently not pregnant") but also through a joke from Lewis. When she was asked about shooting Carrie and Brody's love scenes, Danes mentioned that the scenes were memorable, but Lewis had a funnier answer. He pointed at Danes's baby bump and said, "And look what happened."
Showtime execs were very proud of reports of Barack Obama saying that Homeland is his favorite show, and Lewis shared a story about how he met Obama and asked when the president even had time to watch TV. He got Obama to spill, with Lewis quoting the president: "Saturday afternoons. Michelle and the girls go play tennis, [and] I go to the office, pretend I'm going to work, and go watch Homeland."