Horrible Bosses Review
Horrible Bosses: Earns Its Paycheck
Horrible Bosses highlights a common pain of the gainfully employed: working your butt off for someone you hate. Though the movie may be preying on your plight, it's a laugh-filled escape from an oppressive office. Jason Bateman, Jason Sudeikis, and Charlie Day star as three friends who are so unhappy at their respective workplaces that they come to an extreme conclusion: to murder their three bosses. Bateman plays Nick, a financial exec trying to move up in the corporate world, but he's roadblocked by his company's malicious CEO (Kevin Spacey). Sudeikis is content at work until his kindly boss dies, leaving the family business to his drug-addicted loser son (Colin Farrell). Lastly, Day's character Dale is the assistant to a sultry dentist (Jennifer Aniston) who sexually harasses him at all hours of the workday.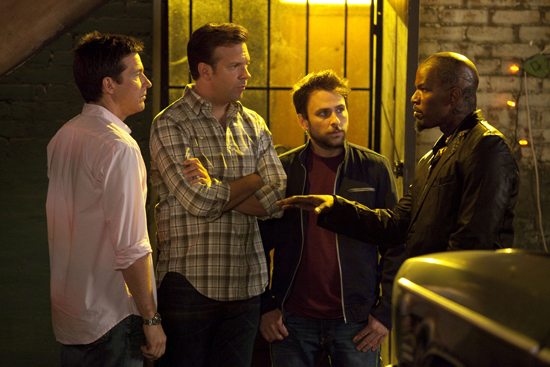 The plot may be far-fetched — would three well-adjusted guys really plot to kill their bosses? — but the premise works thanks to clever writing of John Francis Daley (of Freaks and Geeks fame) and Michael Markowitz. And really, the movie is so funny that it's easy to suspend your disbelief.
To find out why Horrible Bosses is the opposite of horrible, just read more.
The casting is just about perfect; the chemistry between the three leading men is outstanding, although Charlie Day wins MVP. Best known for It's Always Sunny in Philadelphia, the combination of Day's energy, high voice, and mannerisms make Bateman and Sudeikis seem bland by comparison.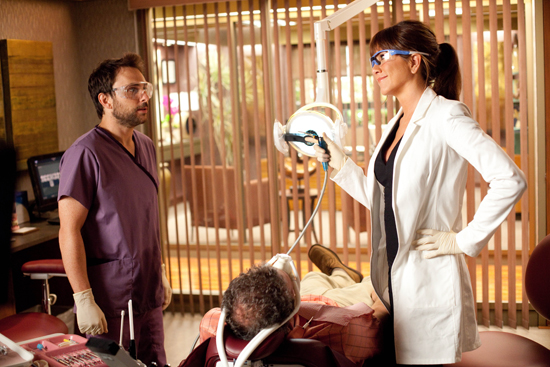 The movie also has a lot of fun with supporting characters playing against type — very far against type. Farrell's role is most noteworthy, and not just because of his balding head; he impressed me by lobbing one-liners like a seasoned comedian. Jamie Foxx also has a memorable part as a "murder consultant," which is one of my favorite bits of the movie. It lets the actor, more prone to drama these days, go back to his goofy comedy roots.
Then there's Aniston as the sexually hostile dentist, although the role is more eyebrow raising than funny. The wholesome movie star strips down to lingerie and pretty much only opens her mouth to say something filthy. It's more novelty than proof of Aniston's comedic range, but the shock value is almost worth the price of admission.
One of Horrible Bosses's most pleasant surprises is the fact that it doesn't rely on lots of gross jokes. Aside from Aniston's language, the raunch factor is pretty limited. And although the premise itself is dark, it doesn't take that as an opportunity to shift into overly violent territory. Instead, the humor comes from a hilarious script and some capable actors who truly kill — at comedy, anyway.