The Host Movie Review
The Host: Soulless and Silly
The Twilight films may be in the rearview mirror, but Stephenie Meyer, the author of the saga, takes another of her stories to the big screen with The Host. Don't expect the film to open to the same level of fandom, though: believe it or not, The Host is even sillier and more laughable than Twilight and doesn't even reward the audience with an over-the-top romance worthy of Bella and Edward's.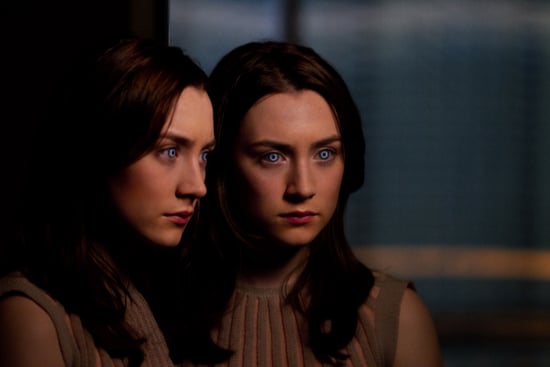 I will give Meyer (who produced the film) some credit for going in a different direction with the story for The Host. Set in the future, Earth has become overrun with blue-eyed aliens that call themselves Souls, who are succeeding in making our planet a better place by replacing corruption with kindness. The only problem is that they need to inhabit human bodies to exact their plan, which means our race is essentially wiped out, save for a few groups of rebels. One of the survivors is Melanie (Saoirse Ronan), who continues to fight for her life even after she's captured and her body is taken over by a Soul called Wanderer. Melanie's body becomes a host in the opening sequence of the film, and it's all downhill from there. For the rest of my review, just
.
Once Wanderer (whose name is later shortened to Wanda) realizes that Melanie isn't going down without a fight, the two personalities are constantly quibbling, arguing, and eventually working together — all in the same body. What this means is that we're constantly listening to Ronan talking to herself, which is just as boring as it sounds. Melanie is a strong-willed character we only really get to know via flashbacks; instead we spend most of the movie with Wanda, who, like most of the other Souls, is like a robot void of personality, despite having a mind of her own.
Given how dull Wanda is, it's a bit of a head-scratcher to see Melanie's family and friends slowly warming up to the Soul after initially taking her prisoner. Melanie's boyfriend Jared (Max Irons) remains the most skeptical, but he's still willing to make out with Wanda in an attempt to see if any remnant of his girlfriend still remains. While Jared pines for Melanie, Ian (Jake Abel) is more interested in romancing her alien counterpart. Not only is this side-by-side love story icky overall, but it's even more gross when you can hear Melanie and Wanda constantly arguing over how they should be using their shared body.
In addition to all the inner-monologue arguing and confusing make-out sessions, there's also a heavy-handed message about tolerance and acceptance: if Wanda and Melanie can get along, then can't all the Souls and humans follow suit? The problem is that once the two groups start really paying attention to each other in a productive way, the film has lost the attention of the audience entirely.
Source: Open Road Films