House of Lies Pilot Review
Pilot Scoop: House of Lies
The major networks aren't the only ones trotting out new midseason shows; Showtime is getting in on the fun with tonight's premiere of House of Lies. The 30-minute comedy has a great cast that includes Don Cheadle and Kristen Bell as slick, fast-talking management consultants.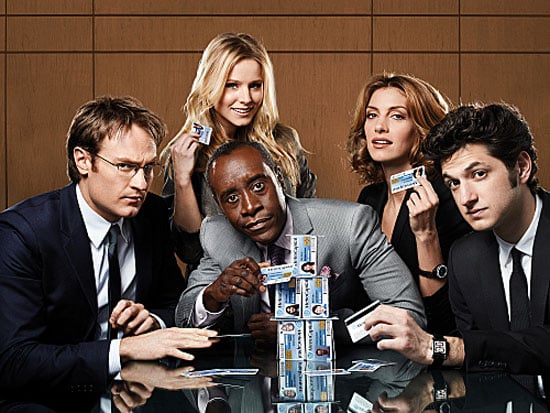 What it's about: Cheadle leads the way as Marty, who has essentially sold his soul for a fat paycheck, along with the three other people on his team (Bell, Ben Schwartz, and Josh Lawson). Marty's not all business though; he's got a "psycho" ex-wife who works for a competing firm, and a young son whose top priorities are shoe shopping and landing the role of Sandy in the school production of Grease.
Where it works: Cheadle is as excellent as always, and getting an inside look into Marty's world is appealing, especially since this is Showtime we're talking about here. Whether or not the raunchy debauchery that Marty gets into is realistic, it makes for good entertainment.
Where it doesn't: Though I laughed a couple of times, sometimes the pilot feels too smug for its own good. There's also the issue that Marty consistently freezes time to break the fourth wall and explain what he's thinking, which is a little too reminiscent of

Zack

Morris's timeouts on Saved by the Bell.
You might like this show if: You're into Showtime's Californication; the humor is similar and there's just as much nudity.
When it's on: Sundays at 10 p.m.
To watch a preview of the show and see some pictures, just read more.