House of Lies TV Show Interview at TCA
Kristen Bell and Don Cheadle Talk About Their Dirty Talk on House of Lies
Showtime's midseason comedy House of Lies has all the elements of a bold cable series: lots of drama, foul-mouthed characters, and sex, sex, sex. The show is about the consultants of firm Galweather & Stearn, who are committed to doing whatever it takes to make their clients happy — even if that means compromising their morals. Stars Don Cheadle, Kristen Bell, and Ben Schwartz joined showrunners at the Winter TCA to talk about their new show and morally ambiguous characters.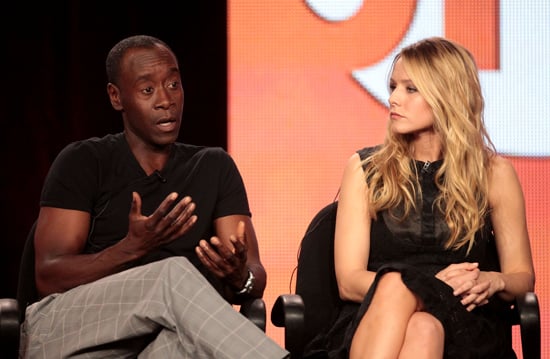 Bell acknowledged that the role of Jeannie is "more provocative than anything [she's] ever done," especially in comparison to her previous TV role on Veronica Mars. When she was asked if she was enjoying the "naughty talk" on the show, she went for shock value and exclaimed that she was "f*ckin' enjoying the hell out if it!" More seriously, she said that as Jeannie, "sometimes I have a potty mouth," and added that "it's nice to not to have those limitations."
Cheadle said that the decision to do a TV series wasn't out of the ordinary for him, because he wants to "spread [his] wings, so to speak," though he assured the audience that he was still making films. As for his character of Marty, who heads up the firm, Cheadle let us know that there's a good reason viewers might not be able to put their finger on the character: "he's asking himself that same question, who's the real me?" Cheadle said Marty will deal with that identity crisis this entire season, and "chart his crash and burn mentality."
My favorite part of the panel was when someone referenced star Ben Schwartz's Parks and Recreation character Jean Ralphio. In response to whether Jean Ralphio would hire the firm to represent Entertainment 720, Schwartz said he would definitely figure out a way to afford Galweather & Stearn: "Oh, he'll get the money again." Also, Schwartz thinks Jean Ralphio would love the characters on House of Lies, saying "I think if Jean Ralphio met Marty he would do anything to be friends with him," and he would also "want to fall in love with Kristen and bring her home." The cast laughed about a House of Lies/Parks and Recreation intersection, with Schwartz saying that "it would be a very interesting mix to see those two worlds collide."