House Recap "Knight Fall"
House Rundown, "Knight Fall"
Oh, it's on. On this week's House there are a couple battles raging — one is the fictional role-play kind between knights and the other, a real-life war brewing between Wilson's ex-wife turned girlfriend Sam and his better half, House. Yes, Wilson and Sam appear to be hitting it off the second time around, but House is ready to bring the woman down, even if it means walking around naked and hiring a transvestite prostitute.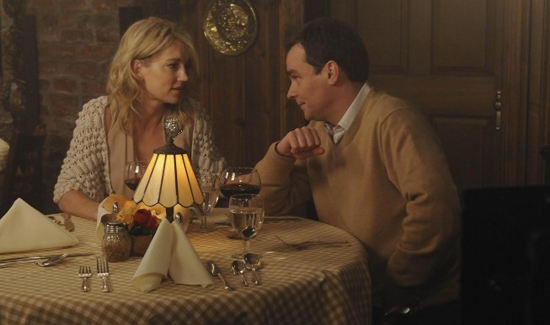 It's not exactly fair play, but how often does House take the high road? I'll be curious to see how the Sam and House faceoff turns out, but before we do, let's recap some of the big points from this episode when you
.
First things first, did you think for just a split second that this mutual hatred between Sam and House might be hiding just a tinge of sexual tension? When she walks in on him naked in the kitchen, I thought maybe I was sensing a bit of it. Can you imagine if that happened?! Wilson would be so devastated, but it would make for a great story twist!
The patient plot this week felt kind of ridiculous, if you ask me. A young guy who role-plays as a knight at a medieval reenactment (and takes it a bit too seriously), collapses during the middle of a sword fight, and comes to House for fixing. Everything seems to be wrong — he has spots on his chest, an irregular heart beat, his eyes are completely bloodshot — and it stumps the doctors. They, of course, have to dress up in ye olde period garb to get to the bottom of matters, and in a strange side diversion, Thirteen and Chase find black magic materials at the knight's apartment. Weird thing is, the writers totally drop the witch element later on, and I kept waiting for it to pop back up. Are we just supposed to forget that the guy dabbles in spells and such?

House confides in Cuddy about his concerns with Sam, and she suggests to him to let it be. Then, Wilson approaches Cuddy about Sam to ask for advice, and she tells him that he might as well go for it, because things could be different the second time around, and he'll never know unless he tries. It makes me wonder if she feels the same way about House? Perhaps the writers haven't given up on Huddy after all.
One way that House tries to throw a wrench into Sam and Wilson's relationship is by bringing a transvestite prostitute to dinner with the couple — which backfires when Sam and House's date hit it off. It was pretty hilarious watching House get all disgruntled, and I would've liked to have seen the episode milk the set up more.
To make up for his childish behavior at dinner, House cooks for Sam and Wilson back at the apartment. It seems civil, but when Wilson leaves for the bathroom, House starts his tongue-lashing, telling Sam he's not going to let her hurt Wilson again. Didn't you love seeing House being so concerned and protective?
After some investigative work, House deduces that his knight patient ingested hemlock — and since he was apparently also taking steroids, the mixture of the two worsened his condition. Meh. I wanted to be more interested in this story, but even the love story where the knight is in love with the queen didn't really keep my attention. What did you think?
Speaking of investigative work, House hires Luke to do a little P.I. job on Sam. Luke says he can't find anything on her, other than some confidential therapist notes. The surprise here: after Sam asks House to give her and Wilson a chance, he actually trashes the files before reading them. Think they'll make a reappearance? And does this mean House actually trusts Sam now? Come on, that wouldn't be any fun.
So, do you think Sam's intentions are good? Is she here to stay, or like House tells her, will he stick around longer than she will? (Obviously, I hope it's the latter!) Tell me your thoughts about the episode in the comments or pay a visit to the House! group to talk more.
Photo courtesy of Fox