How I Met Your Mother Episode "Legendaddy" Poll
Are You Enjoying the More Serious Themes on How I Met Your Mother?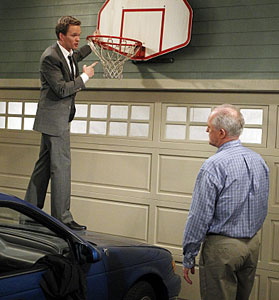 Barney may be the most shallow character on How I Met Your Mother, but he's being hit with some heavy material on the current season of the show. Just a few weeks ago we learned that Barney may secretly want to settle down after so many years of being a playboy, but he just couldn't bring himself to make the mature decision and get serious with Nora. Then on this week's episode, Barney finally comes face to face with the father who abandoned him when he was just a kid. His daddy issues have been a running theme for awhile, but the recent death of Marshall's father has definitely played a role in taking the comedy series down a different path.
Of course, there's still a healthy smattering of jokes in each episode, but the actors (notably Jason Segel and Neil Patrick Harris) are also getting the opportunity to show they can do a lot more than high-five and poke fun at each other. Now that the show has been renewed for two more seasons, I have a feeling that we might be getting more of these sobering plot lines as the gang gets older and Ted moves closer to finally meeting the mother.
So with that said, I'm curious about what fans are feeling about the current season — are you enjoying the more serious side of How I Met Your Mother?
Photo courtesy of CBS