How to Throw a Bachelorette Watch Party
How-To: Throw a Bachelorette Viewing Party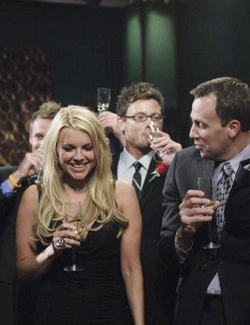 It may be a holiday weekend, but The Bachelorette is still new tonight! So, what better way to watch the show and wrap up your three-day holiday than by throwing a little shindig for your closest friends in honor of the reality TV hit? I've compiled a few ideas to get you started, so check 'em out!


Who to invite: All of your guy friends, preferably 25. But if they refuse to watch the show with you — and let's face it, they probably will — then your closest girlfriends will suffice.
Dress code: For women, your fanciest dress with Converse sneakers; for any guys, Icelandic sweaters or "Rated R" t-shirts, but fake tattoos are mandatory (bonus points for any that involve a heart and/or shield).
For more tips, read more.
Table setting: Divide seating assignments based on which guy each guest is rooting for (sorry, Frank, but after last week's promo, your table may be empty). For an easy centerpiece, feature a posed photo of the guy in a frame, much like Ali has on her elimination wall.
What to serve: A smorgasbord of food from the countries the Bachelorette crew visits. That means cuisine from Iceland (I hear fish hash is good), Turkey, and Portugal. Or scrap all of that, and do like the contestants do — just cheers with champagne! Drinking games could be a bad idea though: sipping every time Ali giggles or uses the term "husband" may just put you under the table.
Soundtrack: Cheesy love songs are a must. Here's a list of a few possibilities: Lionel Ritchie's "Hello," Air Supply's "All Out of Love," Michael Bolton's "How Am I Supposed to Live Without You," and Journey's "Faithfully." Oh, and because he's Ali's favorite, don't forget to include at least one Joshua Radin track.
Party favors: Single roses, naturally. You can hand them out at the end of the evening in your very own rose ceremony — right before you all jump in the hot tub.