How to Throw an Oscar Party Inspired by The Fighter
How to Have a Fighter-Themed Oscar Bash
Got plans for Oscar night? I've been throwing out some best picture-themed ideas for how to host your very own Academy Award get-together. Today's inspiration: The Fighter. So put up your dukes, put on your best Boston accent, and check out my tips below.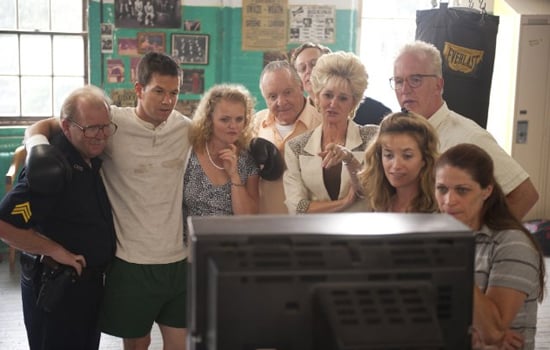 Plus, don't forget to download your own Oscar ballot to pass around to guests, and fill out our online ballot for the chance to win a Samsung HDTV.
Who to invite: Your family, and the more the merrier! Just be sure to seat your significant other and your seven sisters at separate tables, unless you want a brawl to break out.
Dress code: Get done up like you're a boxer in training in a hoodie, sweatpants, and some boxing gloves. And ladies, don't be afraid to tease your hair or pull it up into a scrunchie. Yes, I said a scrunchie. Nineties hair accessories are totally apropos.
Table setting: Simplicity is key. The dinner should feel like a casual, at-home meal at mom's house, so break out a faded tablecloth and use your oldest dishes.
More tips after the jump.
What to serve: The Wards are proud of their Irish heritage, so stick to the sort of hearty food you'd find in an Irish pub. Think shepherd's pie, fish and chips, corned beef and cabbage, and Irish soda bread. Then to drink, beer — in a koozie of course.
Soundtrack: "How You Like Me Now" by The Heavy is an absolute must. The tune has become a theme song for the movie, as it's played over the opening credits. There's also Whitesnake's "Here I Go Again" and Aerosmith's "Back in the Saddle." Feel free to take some liberties and play Survivor's "Eye of the Tiger," too. It may not be in the movie, but what would any boxing-inspired party be without it?
Party favors: Give each of your guests boxing ring essentials: a water bottle and a sweat towel. Not only are both in line with the night's theme, but they can use them for the gym!