How to Throw an Oscar Party With The Social Network as a Theme
How to Throw a Social Network-Themed Oscar Party
Want to throw an Oscar soiree this weekend? As we inch closer to the show on Sunday, we'll be featuring different ideas for your viewing party planning, using the best picture nominees as inspiration. First up: The Social Network.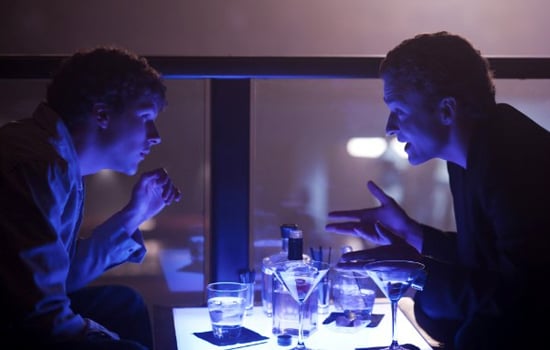 Your Facebook-loving friends will obviously get a kick out of seeing you pay tribute to the award season front-runner, but if you're wondering how to start, try out these ideas. Then don't forget to download your own Oscar ballot to pass around to your guests! You can also fill out our online ballot for the chance to win a Samsung HDTV.
Who to invite: Start a Facebook group to announce the evening's festivities and invite your Facebook friends — all 520 of them.
Dress code: No need to break out your Oscar best for this shindig. Make like Mark Zuckerberg and have everyone don their oldest sweatshirt with sweatpants or jeans and some Adidas flip-flops. Bathrobes over pajamas are equally OK.
Table setting: Make the table look like a workspace area, and get creative! You can serve candy in your office organizers where you normally store paper clips and pencils, and label each seat with a personal business card. You can even take Zuckerberg's own card slogan "I'm CEO, bitch" and swap in each guest's name.
More tips after the jump.
What to serve: Any collegiate-type snacks (pretzels, peanuts, etc.) will do, but the key here is the alcohol. My recommendation: serve up some appletinis like Zuckerberg and Sean Parker down in the film during their first meeting. Rumor has it the appletini has since been declared Facebook's official drink (YumSugar likes this particular spin on the cocktail that's also infused with tea).
Soundtrack: Download some tunes from Trent Reznor's The Social Network soundtrack (you can buy it here). Or play party songs with a nerdy slant. GeekSugar has several recommendations, including Daft Punk's "Technologic" and Kraftwerk's "Computer Love."
Party favors: Toward the end of the night, download photos from the festivities onto a USB flash drive for your guests to take home (there are several to choose from here). That way they can print out the pics or upload the pictures to Facebook, naturally.