How to Throw a Real Housewives of New Jersey Party
How-To: Throw a Real Housewives of New Jersey Party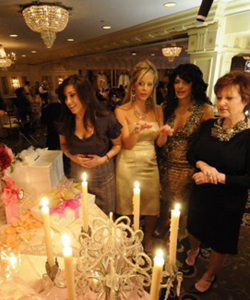 The Real Housewives of New Jersey returns tonight for a new season of major drama! I fully plan on plopping down on my couch this evening to suck it all in, but then I started thinking — isn't this sort of girl-fighting fun something that is best shared? So, I've created a whole party plan to turn tonight's premiere into a full-scale event with your friends. Print it out to get you ready (and share your own ideas in the comments)!
Who to invite: Your best friend, her cousin, her cousin's cousin, her cousin's cousin niece — you get the idea. It's all about family and friends. The key is the more the merrier. Oh, except for Danielle. Do not invite anyone named Danielle.
Dress code: Think halter tops, leopard, bandage dresses — anything to show off your bubbies.
Table setting: Er, flipped over? Yeah, perhaps you're better skipping an overly formal table setting, as it's sure to end up on the floor. Here's a tip: plastic plates and cups are less likely to shatter.
For more party prep,
.
What to serve: Take a cue from Caroline and whip up some Italian food with red wine. Spaghetti is simple enough, and easy to make for a whole army — which is important, since the wives tend to bring family around like they're members of their entourage.
Soundtrack: Any songs about women with serious beef, like Blondie's "Rip Her to Shreds," Beyonce's "Ring the Alarm," or the straightforward "Bitch" by Meredith Brooks (hey, it's one of the ladies' favorite words). Or if you want something a little less angry, old blue eyes, Frank Sinatra, should accompany the Italian cuisine nicely.
Party favors: Band-aids and ice packs to soothe all of your post-party cat claw wounds, plus a copy of Cop Without a Badge for some reading material. Enjoy!
Photo courtesy of Bravo