Hugo Movie Review
Hugo: 3 Reasons Why You Should See It — and 3 Reasons Why You Shouldn't
Iconic film director Martin Scorsese veers off his beaten path with this week's Hugo. Based on the book The Invention of Hugo Cabret, the film tells the tale of a young orphan who is secretly living in a train station in Paris. He spends his days winding the clocks in the station, hiding from a villainous station agent, and trying to fix an automaton (a robot-like machine) left behind by his deceased father. Scorsese definitely packs magic into this film, but it's not exactly the children's fantasy film I was expecting. Before you head to the theater this Thanksgiving weekend, check out my reasons why this might be the film for you — and why you might want to avoid it.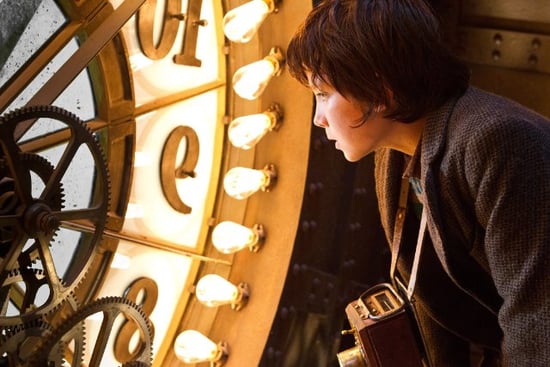 Why you should see it:
The cinematography is stunning. With Scorsese at the helm, it's pretty much guaranteed that you're in for a visual treat, and Hugo is no different. His depiction of 1930s Paris in the wintertime is dazzling; the train station where Hugo lives and spends most of his time is enveloped in warm tones and rich colors, making the film look like a beautifully illustrated children's book come to life — which is exactly what it is.
The acting is superb. It's no surprise that a veteran like Ben Kingsley delivers a spot-on performance as a prickly man who fixes toys in the train station. His mysterious animosity towards Hugo and Hugo's desire to fix his father's automaton becomes the crux of the film, and Kingsley turns in a complex performance as a character with a secret. In turn,

Sacha

Baron Cohen provides comic relief as the station agent with a bum leg who is intent on having Hugo shipped off to an orphanage. However, it's the performances from young actors Asa Butterfield and Chloe Moretz that hold the film together, and both are impressive. Butterfield particularly does a wonderful job carrying the film; his big, curious blue eyes portray Hugo's loneliness, curiosity, and pain, and he brings his A-game to the film's most emotional scenes.
The story has enchanting elements. I loved the whimsical idea behind Hugo, and Scorsese captures all of these elements perfectly. From the automaton to Isabelle's fascination with storytelling to the Parisian setting, Hugo certainly qualifies as escapist entertainment that pays homage to the magic of moviemaking, on multiple levels.
To see the reasons why this movie might be a pass for you, just
.
Why you should skip it:
The 3D is nauseating. Part of the fun of Hugo is that Scorsese pulls out all the stops to capture the childlike wonder of Hugo and his world, but he has a little too much fun with it. In the opening sequence, Scorsese pulls us into Hugo's fascinating life behind the clocks in the train station by taking us through the twists and turns that are necessary to get Hugo up into the rafters. After a couple of minutes, the effect goes from thrilling to stomach turning, and it felt like a ride that I couldn't get off of.
It's too long. For a kids' movie, Hugo is awfully slow. Scorsese clearly wanted to lay out his story and develop it slowly, but Hugo's "adventure" isn't rife with enough twists and thrills to justify the run time (which is over 2 hours). Though there's an emotionally satisfying conclusion, it takes way too long to get us there, and the movie started to lose my attention.
It doesn't spend enough time on Hugo's backstory. About a third of the way into Hugo, the focus of the film is largely shifted away from the lonely young boy and onto the secret of Kingsley's character. Hugo is still there every step of the way, but the heart of the film is in Hugo's relationship with his deceased father and how he's been coping on his own since the tragedy. Unfortunately, we only get one scene between Hugo and his father (Jude Law). It's one of the most touching scenes of the whole movie, and I wish I could have seen more of their relationship and Hugo's upbringing before he became an orphan.
Now that you've been properly informed, are you planning to see Hugo?