The Hunger Games Movie Poster
Check Out the First Poster For The Hunger Games!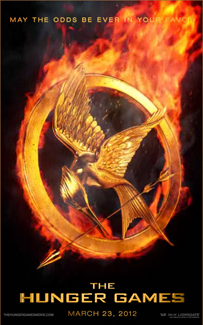 The first poster for The Hunger Games has just hit — and it's seriously on fire. Lionsgate went big for this and they've created a "motion poster" of the mockingjay pin (which is the symbol of the series and what Katniss wears on her outfit during the games) that's animated and bursts into flames. At right is a still image, but I've got the full experience after the jump. Check it out and then let me know if this gives you faith in the upcoming film adaptation starring Jennifer Lawrence and Josh Hutcherson. It certainly did for me; I can't stop watching the mockingjay pin catching fire (yep, I went there).
To see the poster in all its animated, interactive glory (warning: it makes noise), just
.