Hunter Parrish on Weeds Cancellation Rumors and Being Shirtless
Hunter Parrish Talks Weeds Season 7, Cancellation Rumors, and Always Being Shirtless
Weeds kicks off another season of debauchery on June 27, as we fast forward three years into the future where the Botwins are now doing business in New York. I recently chatted with Hunter Parrish, who plays Silas Botwin on the show, about what kind of shenanigans are in store when Nancy and the gang return to Showtime. He talked about how Silas has changed over the years, what it's like working with guest stars like Martin Short, and whether or not Silas will get a new lady love.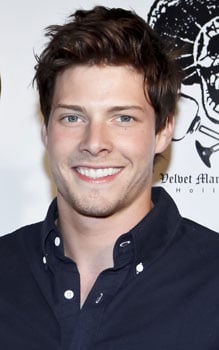 BuzzSugar: What can you tell us about the new season of Weeds that you're particularly excited about?
Hunter Parrish: There's actually a lot that's exciting. We spent all of last season traveling, going all over the place, and this time we're in New York. Well, actually, filming in LA, but getting to do a New York season. Silas gets more heavily involved in the weed business, so that's been really exciting.
BS: This season takes place three years later. How have Silas and Shane grown up?
HP: It's pretty weird; I showed up for the first day on set, and Alexander [Gould] had these big mutton chops on his face. I can't even grow the smallest sideburns! But he's got these huge sideburns, and Silas dyes his hair, so we look a little older, a little different. But it's cool; it's exciting. For the first time on the show I'm playing my own age. I've always been playing two or three years younger, so it's cool to have the maturity and sophistication.
BS: Silas has had a pretty crazy life; how do you relate to him?
HP: Well, my mom doesn't sell weed, so that's different. At least I don't know that she sells weed; she might I guess. It's funny because at the beginning of the series, I said in a few interviews how similar we were, and I think we did start similar. But because of what's happened with the characters and where the writers have taken it, his relationship with his mom is so incredibly difficult, and he found out that who he thought was his dad his whole life isn't actually his dad. He's struggling with things that I can't even begin to understand. So there's a darkness to him that my personal life doesn't really have. So we've actually grown quite dissimilar as the seasons have gone on. But we still share, which I think is the biggest thing, is the same heart and passion for life, and the people around me. And he's really good about that, and really trying to love first.
BS: Speaking of putting love first, is Silas going to get a new love interest this season?
HP: I keep asking them about that! I'm pretty much shirtless in every episode, but none of those include a sex scene or any sort of love scene. So I'm not quite sure that's coming up or if I should expect that. But so far there is no love for Silas.
To see what Parrish had to say about Nancy's jail time and his favorite shocking moment from the show, just
.
BS: Nancy's been in jail for three years; how will that affect Silas's relationship with her?
HP: It's difficult at the beginning but we sort of brush through that quite quickly. We kind of jump back to the reactions from the end of last season, where he's had three years now without her to process the fact that his dad is not who his dad is, but they haven't really talked about it. So I spend a lot of this season challenging her on that stuff. And then on the back burner we go into business together. So there's this constant teamwork of working together for the weed business and then a complete aggressive anger toward each other when we discuss the personal matters. It's a cool battle throughout each episode; it's a little different.
BS: Do you think there's any chance for Silas to lead a normal life or has Nancy screwed him up beyond repair?
HP: Everybody has father problems or mother problems, and his are actually growing bigger and bigger as he realizes more and more about himself. The person he thought he would be when he was younger is not at all who he can even begin to be now, because of the fact that he knows that he's not even who he thought he was, or who he thought he was going to try and be. I don't think it's possible for any kind of normalcy, but I think he's going to try. He's always fighting for that. But I don't think he'll ever really achieve that.
BS: What was it like working with Martin Short this season?
HP: Martin is one of the coolest people I've ever worked with, if not the coolest person I've ever worked with, and I've worked with a lot of people that I've looked up to, and they're all incredible. He's not only incredibly experienced, obviously, and professional, but he is one of the most giving actors I've ever worked with, encouraging, and also allows the scene to play out in its reality. He's just a lovely person all around, and I really grew to like him and respect him a lot.
BS: There have been rumors that Weeds will end after this season; if that's true, do you think fans will be happy with the way it wraps up?
HP: They say that every year! We're always rumored to end, and the truth is, I always prepare like we are because we never know. I have no idea, I don't know what's going to happen. I don't really read the scripts until a couple of days before we start that episode. And I specifically tell them not to tell me stuff that's going to happen. So I don't really know how we end. I hope, I hope that we don't just get canceled and that we actually have an end to it. Because I think people have invested themselves so much into these characters. Regardless of the TV show, these characters have their own little fan bases. And I think it would be a disservice to not have closure for that.
BS: There have been plenty of shocking moments on Weeds over the years; do any stand out for you?
HP: Season three was my biggest shock, when we burned the entire city down. And the baby was really cool; everyone was sort of like "Whaaaat?" at the end of season four. Everyone was sort of like, "Can you believe that?" and I was very excited. I'm always impressed and shocked with whatever they come up with, because it's always very unexpected and sets up for the next season pretty well.