Hysteria Movie Review
Tribeca Takeaway: Hysteria
Hysteria, a movie from director Tanya Wexler, is currently screening at the Tribeca Film Festival before its theatrical release on May 18. The story, which is based on real-life events, centers on the 1880s-era doctor who invented the vibrator to treat hysterical female patients, and I had a chance to check out the film and bring you the details.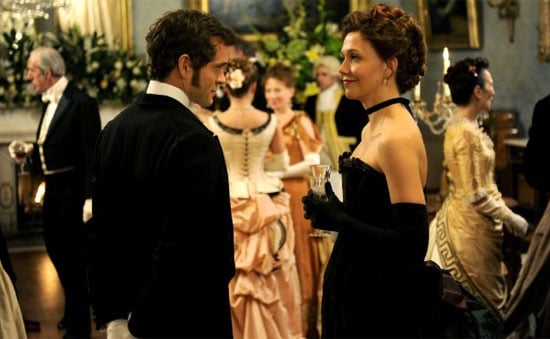 Who's behind it? The film was helmed by Wexler, who previously directed indie films Ball in the House and Finding North. Fun fact: Wexler, a graduate of Columbia's film school, is the half sister of Daryl Hannah. Hugh Dancy is the film's leading man, with Maggie Gyllenhaal, Rupert Everett, and Felicity Jones rounding out the cast.
What's it about? Dancy's Dr. Mortimer Granville is a cutting-edge doctor for his time, since he shocks colleagues by believing that germs exist. After being fired from one hospital after another for his radical views, he lands a last-ditch position as the assistant to society doctor Robert Dalrymple (Jonathan Pryce). Dalrymple is a specialist in "hysteria," which was a commonly diagnosed condition in women. His treatment involves a literal hands-on method, and Mortimer has to explore other options to ease the physical demands on the doctor. Mortimer also romances Dalrymple's daughter Emily (Felicity Jones) but is also captivated and confused by Robert's other daughter, volatile social activist Charlotte (Gyllenhaal).
For my thoughts on the film, just keep reading.
What did I think? Hysteria is a delightful period piece, but any deeper issues about the diagnosis and treatment of female illnesses get overlooked in favor of the plot twists of Mortimer's love life. Everett, as Mortimer's friend and benefactor Lord Edmund St. John-Smythe, manages to steal every scene with a series of one-liners. There aren't any shocks in terms of how the movie wraps up, though you might be pleasantly surprised at how good Gyllenhaal's English accent is.