I Don't Know How She Does It Movie Review
I Don't Know How She Does It: You're Better Off Not Knowing
With a title like I Don't Know How She Does It, you would think that Kate Reddy (Sarah Jessica Parker), a financial executive and mother of two at the center of the comedy, manages to get the balancing act between personal and professional life right. But the truth is Kate — and the movie — get so much wrong that by the film's end you won't really care how she does it.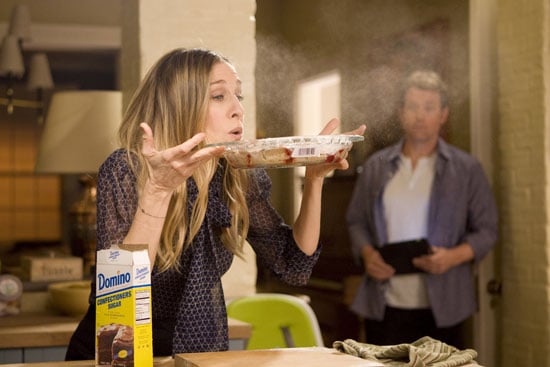 When the over-committed Kate, who keeps herself awake making mental lists of the many tasks she has to complete, masterminds a potentially lucrative business venture that requires her to travel more than usual, her relationships with her husband (Greg Kinnear) and kids suffer. It's a scenario that countless women can doubtlessly sympathize with, but Kate's over-the-top frazzled behavior makes the story unrelatable and just plain ridiculous at times. To find out why you should scratch I Don't Know How She Does It off your to-do list, just read more.
It's clear that Kate is no fool, because she comes up with brilliant pitches at work, so it doesn't make sense that she makes careless mistakes throughout the film. Kate adjusting her undergarments seconds before a video conference call (with her back to the camera, of course) or accidentally sending an inappropriate email to her new colleague makes her come off as a clueless moron. For her part, Parker does the most with the character, bringing energy to the slapstick humor, like vigorously scratching her lice-infested hair during a meeting or cramming herself into a packed elevator with an assortment of balloons. But even with Parker's commitment, these bits aren't very funny.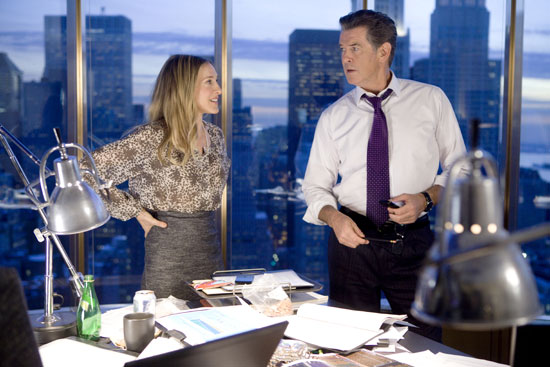 In lieu of engaging jokes or dialogue, the film relies on a lot of gimmicks, like writing out Kate's to-do list on the screen and freezing frames so that she can address the audience. A series of interview-style confessionals has the potential to deliver laughs, but more often than not feel forced and include stale humor. Kate's best friend, Allison (Christina Hendricks) appears in such testimonials, neatly pointing out the inequalities between men and women in the work place. However, her points are ultimately undermined by the film itself, which reinforces the double standards by showing just how distracted working mothers can be through Kate's character, as well as her over-achieving associate Momo (Olivia Munn), whose performance suddenly slips as soon as she discovers she's pregnant.
I Don't Know How She Does It presents Kate as the clichéd clumsy-but-cute female character who can still attract the attention of a hunky colleague (Pierce Brosnan) — lice and all. It's a tired and annoying idea that tells ladies it's cute to be a walking disaster. I had hoped the film would take a more original and realistic approach to the hectic schedules many women face, but Kate's manner of getting "it" had me rolling my eyes and feeling more stressed out than enlightened by the film's end.
Photo courtesy of The Weinstein Company