As I Lay Dying Movie Review | Cannes Film Festival
Cannes Review: James Franco Makes an Ambitious but Faltering Debut With As I Lay Dying
James Franco's As I Lay Dying earned a standing ovation following its premiere at the Cannes Film Festival, but while it shows promise for Franco's burgeoning directorial career, its stumbles highlight his newness to helming films.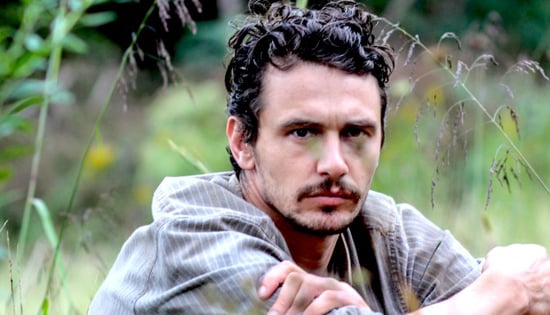 William Faulkner's classic novel As I Lay Dying is a famously dense story about the destitute Bundren clan and their calamitous journey to lay their matriarch, Addie, to rest in Jefferson, MS. The trip unleashes a dismal chain of events that leaves them all somehow changed or scarred — sometimes physically.
It seems fitting that Franco, an actor-slash-author himself, would combine his love for film and literature in his feature-length directorial debut. And he does an impressive job unraveling the complex narrative, which in the book is told by 15 different characters and jumps vaguely backward and forward in time. Sure, there's no doubt that it's ambitious for a first-time filmmaker to take on one of the most acclaimed novels in American history, but at least Franco's devotion to, and admiration of, the source material is clear. He does well capturing its Southern Gothic sensibility, shooting in the mostly drab colors of the Great Depression and drawing appropriately beaten-down performances from his actors.
For the rest of my review, just read more.
In fact, Franco's biggest talent as a director might lie in his casting abilities. O Brother, Where Art Thou?'s excellent Tim Blake Nelson plays Anse Bundren, the toothless patriarch of the impoverished family. A solemn Ahna O'Reilly plays sister Dewey Dell, while Logan Marshall-Green, True Blood's Jim Parrack, young actor Brady Permenter, and Franco (as Darl) round out the rest of siblings. Danny McBride, a friend and frequent collaborator of Franco's, also makes a brief appearance as a neighbor. If anything, Franco's biggest misstep may be in his own portrayal of Darl. In contrast to the rest of the cast, Franco feels like somewhat of an anachronism. His country twang is halfhearted, and he doesn't completely shed his own unaffected layer of cool — an element that also seemed to prevent him from fully embracing his performance in Oz the Great and Powerful.
Franco's background shooting experimental short films before As I Lay Dying is visible here and especially prominent at the beginning of the movie. The opening sequence builds tension with the methodical sawing of Addie's coffin by her son, Cash, as she awaits her impending death from inside her bedroom. Franco employs a unique split-screen approach and shaky, handheld camerawork that is likely to leave some moviegoers feeling nauseated. He also uses occasional straight-to-camera monologues by central characters, allowing him to spotlight some of Faulkner's beautiful language. Overall, these elements dissipate over the course of the film as the plot comes to the forefront and the overstylized aspects retreat slightly. It's a welcome shift; the few people I heard snoring in the theater early on during the film seemed to wake up around this time. Still, it contributed to the film's disjointed feeling and the sense that Franco was trying out a range of methods without really committing to them.
As I Lay Dying created excitement among the Cannes crowd about what Franco is capable of bringing to the table in his future films, but it likely won't appeal to wider audiences with its sometimes-gruesome scenes, slow build to action, and hodgepodge of experimental touches. Still, to reference Franco's recent appearance on Between Two Ferns, it's unlikely to be the project of his that people have "rolled their eyes at the hardest."
Source: RabbitBandini Productions