Ian Somerhalder 50 Shades of Grey Casting Rumor
Five Reasons Ian Somerhalder Is Perfect For Fifty Shades of Grey
Though it came as no surprise to me that Fifty Shades of Grey will be coming to the big screen, I'll admit that I was blanking on the perfect casting. That is, until Ian Somerhalder expressed interest in playing Christian Grey. The sensational erotic novel revolves around the S&M relationship between 27-year-old-billionaire Christian Grey and naive college student Anastasia Steele, and the romance that comes with her sexual education. Somerhalder seems so right for the role of Christian that now I can't picture anyone else in the part. Not only does he fit the bill physically, but there are so many similarities between Christian and Damon, Somerhalder's character The Vampire Diaries. Check out my top five reasons why Somerhalder would be the perfect Christian Grey, and tell me if you agree.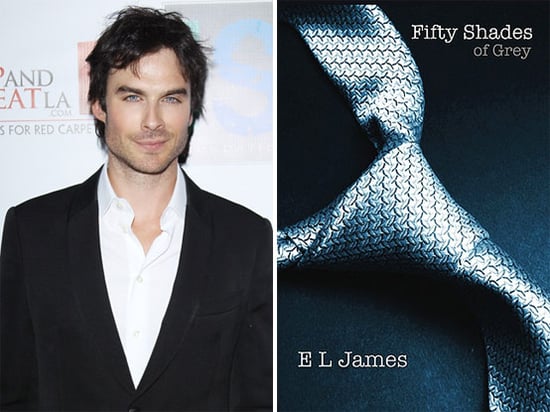 He's got a swoon-worthy smolder. Anastasia is constantly talking about how beautiful Christian is, from his crooked smile to his perfect bod. Somerhalder's got prettiness in spades, but he also knows how to play it mysterious. If you need more convincing, check out his sexiest smolders.
He's not afraid to show skin on the screen. Before Somerhalder hit it big on The Vampire Diaries, he was stripping down regularly for the HBO show Tell Me You Love Me. Though the series only lasted 10 episodes, it generated buzz for pushing the envelope with its racy sex scenes — an element you can bet we'll see in the big-screen version of Fifty Shades.
There's a vampire connection. Fifty Shades started out as Twilight fan fiction, in that Christian and Anastasia are loosely based on Bella and Edward's personalities in Stephenie Meyer's saga. Though Damon is a far cry from Edward, they're both hot vampires lusting after good girls.
Christian and Damon have a lot in common. Christian's basically the complex bad boy with a softer side, and the same can be said for Damon Salvatore. Somerhalder has mastered the art of playing hot and cold, and can also go from playful to mistrusting with a mere glance, which is exactly how quickly Christian's moods swing in the novel.
He's not too mainstream. Somerhalder has die-hard fans as far as the eye can see, but he's not quite a major movie star, which makes him a wise choice for the role. Going with a household name like Ryan Gosling could be distracting to the audience, but Somerhalder is still a bit under the radar.
Can you see Somerhalder in the role or do you already have someone else in mind? Let's hear your casting ideas in the comments.