The Ides of March Movie Review
The Ides of March: Victory, but Not a Landslide
George Clooney takes the director's chair for political drama The Ides of March, which he also stars in as Pennsylvania governor and presidential hopeful Mike Morris. The real star of the film is Ryan Gosling, though, as a crackerjack strategist working on Morris's campaign during the Democratic primary. With that kind of star power behind and in front of the camera, I was expecting an immaculately crafted thriller, but The Ides of March doesn't live up to its potential.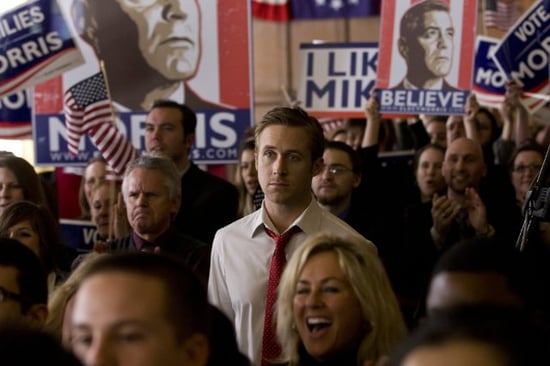 The premise is as promising as Morris's Obama-esque campaign posters: Stephen (Gosling) is a key part of Morris's bid for a presidential nomination, not just for his savvy but for his optimism and belief in the candidate. When Stephen discovers a sticky situation the governor is involved in, he has to decide his next move. At the same time, he's being courted by a rival campaign, which also challenges his loyalty to Morris.
As Stephen transforms from an idealistic employee into a jaded cog in the machine, his trajectory is engaging, but could be more riveting. Though the plot keeps you intrigued long enough to find out what happens to the characters, there's not enough background or development to make you care about any of them. To find out what else I thought about The Ides of March, just keep reading.
Gosling is an ideal centerpiece; his good looks make him endlessly watchable, and his charm makes him believable as the wunderkind that everyone in politics wants a piece of. However, when he's asked to do more than ooze charisma, his acting falters. As Stephen's life and career begin to unravel before his eyes, he tends to rely on techniques like a frozen, bewildered expression that's more distracting than anything.
Clooney is utterly at home in his role as an inspiring presidential candidate. He's intelligent and composed as Mike, and in the rare moments that Mike is flustered, he remains confident in a way that's practically unsettling. I was impressed by Clooney's efforts as director as well. He does a solid job at the helm, especially with the tight pacing of the film, which keeps it engaging.
The supporting cast is a well-built group, particularly the consistently fantastic Paul Giamatti and Philip Seymour Hoffman, who both overshadow their costars with flawless performances. Meanwhile, Marisa Tomei and Evan Rachel Wood provide a little welcome contrast to the boys club as a nosy New York Times reporter and nubile love interest, respectively. But the cast can only do so much to make the climax of the film feel explosive; rather, the twist is only vaguely surprising, and the fallout that we should be biting our nails over is kind of a letdown.
Though I had hoped the The Ides of March would be so much more, it's nevertheless an entertaining tale. You may not be on the edge of your seat the whole time, but you'll still enjoy having a front-row seat to the dirty doings of politicians.