Imogen Poots Interview For Need For Speed
Need For Speed's Imogen Poots Doesn't Even Drive
Imogen Poots and Aaron Paul team up as car driver and passenger in this week's Need For Speed, and when we visited the set of the film with a few other reporters in Detroit last year, Poots chatted with us about the car-heavy film. The funniest revelation? She doesn't drive. The British star also joked about originally wanting to "play a redneck," her character's signature clothing item, and being one of the few women on the set of the action film.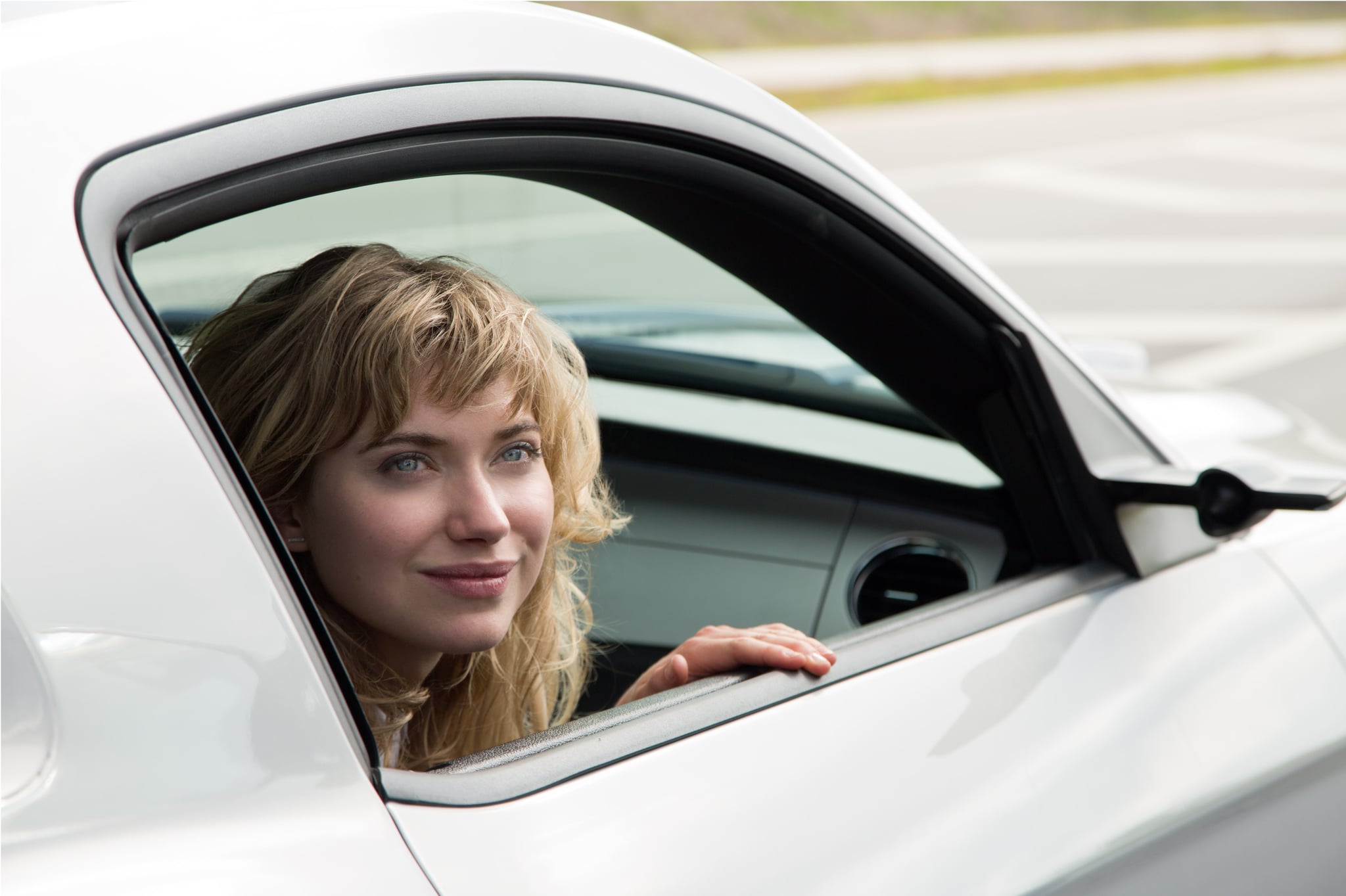 POPSUGAR: Tell us a little bit about your character.
Imogen Poots: I play Julia, and she is a young car dealer, to some extent. She knows a lot about cars. It's not necessarily something that you gather when you first meet her in the beginning, but she's also — as the story goes on — revealed to be a bit of a daredevil. She's willing to try things out and she's a really great role to play because the people behind the script have been pretty liberal, too. It's a movie about race cars. You want people to enjoy it and have fun and be entertaining, so we're trying to find as many different arcs and levels within that, in terms of the action environment, as you can.
PS: The screenwriter John Gatins said they didn't make you use an American accent. Was it a relief to know that wasn't going to be required?
IP: Hell no. I wanted to play a redneck, but they wanted me to be British in the film, so I'm doing my best, but it's nice. I kind of understand that perspective, too, because again, it adds something different to the film and, again, gives the characters more of an awkward beginning. They're not used to one another's culture, or whatever it is. I can see their point of view for wanting to try that.
PS: In the scene we saw, it looked like you and Aaron Paul's characters are mad at each other.
IP: There's tension the whole time between the two of them. That's the real idea, I think, with the movie — [it] is to give it a story and a foot line inside of all the action, and so this is kind of a midpoint during that trip. So they're familiar with one another, but still not comfortable enough to be themselves fully. So we're trying to find an arc somewhere within there.
PS: Do you get to do any driving?
IP: I do get behind the wheel. I do get behind the wheel. First of all, the huge kind of dribbling irony of the whole project is that I don't actually drive, and I somehow manage to live in California without driving. It's ludicrous, but in this film, I do drive, and it's terrific. I mean, we're doing stunts with guys who are at the top of their game and very much believers in 'let's do stunts that are potentially realistic,' rather than something that's completely animated beyond anything and understanding, which, I like that. Sometimes, like with the driving, we're doing a lot of stuff, and Aaron does a lot of the stunts, when he's actually controlling the car. I wouldn't be able to that, because I would get distracted by passing pigs. It's been a blast. I've never done anything like this before.
PS: Did you have to do any driving training or anything to prepare for it?
IP: I did a little bit, yeah. It's also more to get used to the speed of the car, because it's like being on a roller coaster when you're going at that speed.
PS: Talk a little bit about your costume and the headband that your character wears.
IP: The headband was fully my idea. I wanted to basically break the mold of something where someone had to be very put together, and I wanted her to have something that showed that she was willing to change something about her appearance, even if that was a way of getting through to Tobey [Aaron Paul's character] — that she was on this journey with him. The headband for me is like a throwback to many films where you see people just do it. They take a piece of fabric, and it becomes a souvenir, something that's on their person, something they've come across, and I think it kind of elaborates something about character, too. I think the headband is just something I really wanted her to own, and I think it's wonderful to create a costume in that sense. I think the trivial things, in terms of what pants the character is wearing or what hair — it can be seen as trivial — are actually very, very, very vital to holding on to what you can, especially in a studio film, in regard to character.
PS: You shot the movie in a lot of the states in the US. Was there a city that you particularly loved filming in?
IP: I loved Atlanta. I love America a lot. I really do love the literature or movies. We're filming in really, really exotic places to me. I mean Moab, UT, we're going to go in a couple of weeks, and I find that slightly extraordinary. I'm going to have to get over my neurosis and maybe try to go skydiving or something like that, maybe, but we're seeing exquisite things. The car is quite hot, but worse things have happened, so we're kind of just dealing with it, but Atlanta was really fun. There's a great music scene there. San Francisco: coolest place ever. Mendocino: beautiful wine town. That was fun, very fun. It was good to get out of Mendocino, because otherwise, it would be perpetual hangovers.
PS: What do you think the appeal for women to see this movie will be?
IP: I think, I mean, gee, I don't know, guys. Let's hope there is an appeal! It's a testosterone environment we're making this film in, for sure. There's a lot of guys. There's a lot of lifting and a lot of cars breaking down and getting put back together again, and I think, in terms of the women, you never want to say, 'Oh, they're going to go for the romance,' because I don't think women do that, but I think they'll just go to see a fun movie. I don't think there's any divide whether you're male or female.
Is it a testosterone fest being on the set?
IP: It's funny. These guys are really, really gentle, like the camera crew. The manners are exquisite on the set. They really are. It's extraordinary in the sense of how you're taken care of. I've never felt like, 'Oh, I'm the only girl,' or anything like that.
PS: If you could hypothetically take any car you've seen in the filming home, which vehicle would it be?
IP: I actually saw, in Mendocino, a blue pickup truck that wasn't part of our film in any way whatsoever. I would take that. I'd take the bicycle that one of our wonderful crew members bought. I'm really not into race cars, in the sense of, I wouldn't know what to do with it. I really wouldn't.