The Impossible Movie Review
The Impossible: What You Should Know About the Harrowing Drama
In The Impossible, Ewan McGregor and Naomi Watts play Henry and Maria, parents to three boys who get separated in the 2004 tsunami in Thailand, which is based on a real family who survived the tragedy. The movie is starting to get award buzz (Watts was recently nominated for a Golden Globe and a SAG award for her role), and while I found The Impossible to be a well-done film, there are a few caveats to consider before you check out the drama.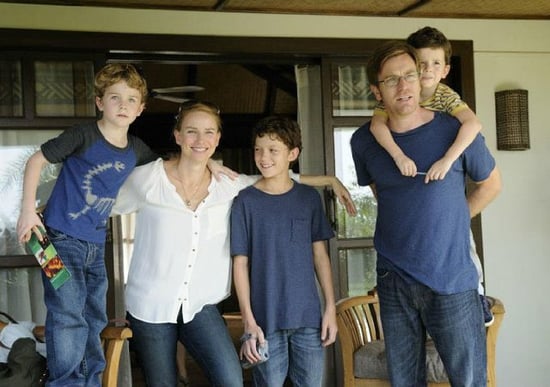 It's good. The acting is strong, the visual effects are stunning, and you stay invested in the family's story.
But . . . It is very, very tough to watch. Director Juan Antonio Bayona doesn't spare you from any aspect of the tsunami, kicking off with a first-person-like experience of the wave hitting. There is extensive underwater footage that can make you feel claustrophobic, and the injuries sustained by Maria are very graphic. The visuals may also be gut-wrenching for other reasons, too; the tsunami only happened eight years ago, and even if you don't have a personal link to the tragedy, it's still traumatic to see it so up close and personal.
Ewan McGregor and Naomi Watts are great. As parents who are separated by the disaster, they convey how scared they are while hiding that fear from their children.
But . . . The child actors leave an even bigger impression. Watts is certainly deserving of praise, but I was more affected by the actors that play the three sons, Lucas (Tom Holland), Thomas (Samuel Joslin), and Simon (Oaklee Pendergast). With their cherubic faces and rare range for such young actors, the boys are sympathetic and magnetic. In particular, Holland stands out as the oldest son who has to be his mother's strength at times and withstands some of the most difficult emotional ordeals.
It's moving. To call this movie a tearjerker is a severe understatement.
But . . . Ultimately, it feels a bit emotionally manipulative, and I was left feeling exhausted after experiencing the ups and downs of the family's plight. This is far from escapist entertainment.