The Incredible Burt Wonderstone Review
The Incredible Burt Wonderstone: Mediocre but Mildly Funny
The Incredible Burt Wonderstone follows the life of a man who aims to leave people in awe, and while the movie itself doesn't reach those kinds of heights, it is a comedy with a few laughs and a cast that wins you over. Steve Carell headlines as title character Burt Wonderstone, a Vegas Strip mainstay whose flashy shtick has grown tired. Steve Buscemi plays his stage partner Anton, and when their act is challenged by flagging ticket sales and newer, more modern competitors, the two childhood best friends have a falling out, leaving Burt to rediscover his touch. Burt's road to a comeback is entertaining and full of goofiness that's quite dumb but still amusing.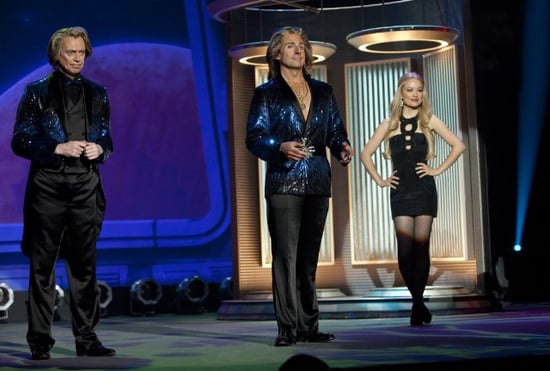 The silliness of the movie is balanced out by how irreverent its sense of humor is. This is best demonstrated by Jim Carrey's character Steve Gray, a Criss Angel-like street magician more interested in shocking the masses than dazzling them. The gags ring true, and the observations about the business of magic are sharp and give The Incredible Burt Wonderstone an edge — not just an excuse to put the actors in ridiculous costumes. The lampooning of the industry and the jokes both provide a good time, even if the movie isn't destined to be a comedy classic. Find out what else I thought after the jump.
As cocky illusionist Steve Gray, Carrey conjures up his old comedy magic and returns to form, using his rubber face and extreme commitment to a character to make his the standout performance. He's the villain, but he overshadows Carell's leading role of Burt. The dependable Carell is charming, but when Carrey's onscreen persona is running circles around Carell's, it's almost too on-the-nose.
Other members of the supporting cast dazzle too, like Alan Arkin, who is predictably delightful as a retired, curmudgeonly magician who becomes Burt's mentor. Olivia Wilde has a surprising amount of comedic timing as Burt and Anton's assistant, proving that Wilde isn't just a pretty face; she's also a funny actress. Meanwhile, other funny folks pop up with zingy one-liners, like Jay Mohr and Community's Gillian Jacobs.
The flavor the cast brings is the movie's biggest accomplishment, which makes up for the fact that the plot's not that compelling. Despite its story's shortcomings, though, The Incredible Burt Wonderstone does feel satisfying. It's a nice trick.