Interview With Alison Brie and Joel McHale About Community Season 2
Joel McHale and Alison Brie Talk Community Season 2, Betty White, and Action Figures!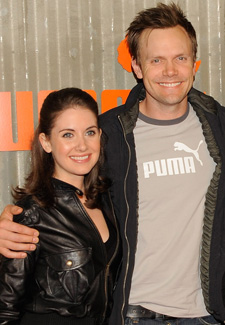 Community is back tonight for its sophomore season! I've been trying to convince you to follow the adorable show, but if you need more persuading, just check out this interview with stars Joel McHale and Alison Brie. They recently chatted with reporters to discuss the premiere with Betty White and what's in store for their characters Jeff and Annie (although they were pretty mum on the whole will-they-or-won't-they after the finale). It's not my first time talking to McHale or Brie, and they were just as funny as ever. Keep reading!
What's it like for you two as actors to be in a series that can attract such guest stars as Betty White, Rob Corddry, Drew Carey?
Alison Brie: I have to say I think out of those three, I was the most excited to work with Rob Corddry.
Joel McHale: He's amazing, and with Betty White, I know that she is very picky and the fact that she picked our show, I was like, I can't imagine she watches it, but this is great...She was absolutely delightful. It was like having the queen on the set, and it was just kind of like it was just this honor. So I can tell my grandkids I worked with Betty White.
Who do you think had the best chemistry with Betty White on set?
JM: Well, I had the most sex scenes with her...It's very similar to Kim Basinger and Mickey Rourke. But the scenes were definitely more graphic in Community. Which did she have great chemistry with?
AB: I thought that you and Bet really clicked and had some moments. Even off camera I think everything sort of clicked...You couldn't not fall in love with her. She's the sweetest woman in the world.
For more fun anecdotes from the stars, including their dream guest stars and the upcoming holiday episode read more.
Do you have any dream guests that you'd like to see coming up on the show?
JM: Yes, I would like to have Bono be our music teacher. If Bono could be the music teacher I'd be totally into that.
AB: I wish Jason Bateman would come on the show. I love Jason Bateman. He's so funny.
I'm a big fan of your work on Mad Men, so I'm curious about who you think would make a better long-term love interest? Pete Campbell or Jeff Winger?
AB: I'll say Pete Campbell. No, I think Jeff Winger because, you know, we have yet to see him as a long-term love interest. So there's potential there still. However, we've seen Pete Campbell and how he is as a long-term, you know, love interest and he's terrible. He's a terrible husband.
We've heard of this season's Apollo episode. We've heard the Halloween zombie episode, the stop-motion Christmas episode. Is there one that's still to come that we haven't heard of that you think will have that resonance?
JM: For me, I think it's either going to be our Apollo 13 episode or a zombie episode at this point. But I actually haven't seen any of them yet, so I only say that because they're both kind of as big as paintball. So those could, but I'm not sure.
AB: Well, I do have to say that as soon as I found out about our Christmas episode being stop-motion animated, I just got chills.
The Christmas episode news is probably the newest episode we've all heard about. Clarify for me — is it you, your characters in Claymation, sort of that Rudolph the Red-Nosed Reindeer kind of thing?
JM: None of us have seen the renderings yet. We know it's going to be stop-motion and that's about it. I don't even know what our characters will look like yet."
So how close are we to having like figurines of you on the market then, after they've created your Claymation versions?
JM: Oh, they'll start making millions of those as soon as they get the renderings, because they know they will be the next Cabbage Patch doll or Tickle Me Elmo combined...The Chevy Chase doll's going to be amazing. It comes with real napping skills.
AB: You pull a string and it, and he's just...
JM: He just goes right to sleep.