Interview With Betty White About Hosting Saturday Night Live
Betty White Thinks Jay-Z Is "Hottest Thing Since Sliced Bread"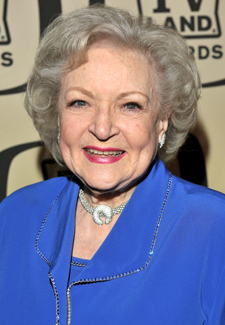 This week, TV icon Betty White sat down with a few reporters to discuss her upcoming stint on Saturday Night Live next weekend (May 8!). As part of a special Mother's Day episode, White will be taking the stage with other famous SNL moms, like Tina Fey and Amy Poehler. She admits that she's "scared to death" about her hosting duties, but I don't think she has anything to worry about — the woman was already hilarious while speaking candidly about everything from Facebook (she says she's a "technological spaz") to beer pong to the episode's musical guest, Jay-Z.
On what sketches we can expect to see: "I haven't any idea what I'm going to be doing . . . All I know is I have veto power if it's something I really don't want to do. And they promised me I wouldn't have to do any nudity."
On what she's most nervous about: "The fact that I understand you work from cue cards, and I never have been able to work from cue cards. I memorize everything or ad lib it. And I know with the changing scripts, and it changes as you speak — I know that won't be possible. And with cue cards I hope I don't have to wear my glasses. I hope the print is big enough."
On appearing with Jay-Z: "Oh, I'm thrilled to meet him and thrilled to hear that he's going to be on the show, because he's the hottest thing since sliced bread."
For more from White, including her thoughts on a Golden Girls remake, read more.
On the Facebook campaign to get her on SNL: "Well, all of a sudden people would tell me that they saw the Facebook thing, and all these people had joined in, and I couldn't believe it. At first I thought they were putting me on. But it just came out of left field and I was astounded. I told my agent to please say, 'Thank you. I appreciate it, but no thank you.' And he said, 'You have to do it, and if you don't do it I'll divorce you.'"
On if the Mother's Day special will be an all-women performed show: "I hope not. But if there isn't [any men], I'll hit on every member of the crew!"
On who would play her in a Golden Girls remake: "I really have never given it any thought. But it's an interesting question, and I'll brood on it. And I'll try to come up with something, but I can't right off the top of my head."
On her beer pong game with Jimmy Fallon: "Oh, I'm dying for a rematch. I almost had him, and then at the very last minute, he not only beat me, but he drank my beer."
On her upcoming show, Hot in Cleveland: "Well, the three girls have come to Cleveland — Valerie Bertinelli and Wendie Malick and Jane Leeves. They have come to Cleveland and they're renting a house because they're going to stay there for a while. I have been housekeeper at that house for 50 years, and they inherit me along with the house. And of course I'm a pain in the neck. I'm . . . Elka is not a nice person. Her opening line when she sees the real estate man talking to the three girls is, 'Why are you renting to prostitutes?' So that kind of sets her character. She's not easy to live with."