Interview With Community Stars Alison Brie and Danny Pudi
Alison Brie and Danny Pudi Talk About Community's Love Connections and Politics
Community has been rocking the Thursday night comedy block, and this week's episode should be no different. In "Intro to Political Science," the gang preps for a student body election when they hear that Greendale is expecting a visit from Vice President Joe Biden. The ensemble's stars Alison Brie and Danny Pudi got on the phone with reporters to talk about the episode, which will also feature Annie and Jeff running against each other in the election, and Abed and Troy taking part as news anchors.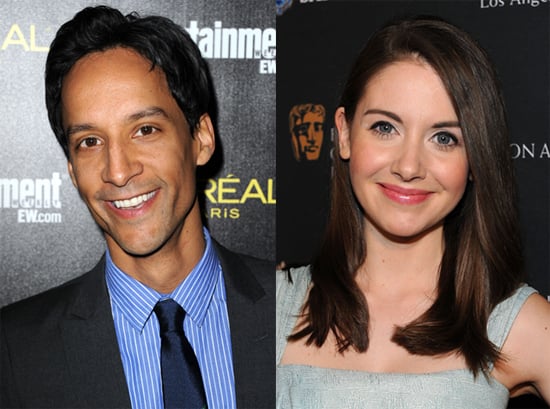 Will we see anything happen between Annie and Jeff in the future?
Alison Brie: You know, I still think that Annie holds a little flame for Jeff. We saw [it] in an episode when we first came back and Rich comes on the scene; you can tell that Jeff gets a little bit jealous. I think that there is a bit of a push and pull between the two of them, and actually in this episode that we're talking about, there's a bit of that tension there as well, throughout the election. I think that their bumping heads kind of fuels more of that. I think that anytime they're together, there's a bit of that, because it can't exist, or because it's controversial. I think that makes it dangerous and interesting, and obviously to Annie, it's exciting to have a crush on an older guy, and she continues to try to challenge Jeff in that way. That spark is not totally dead. You may catch glimpses of it in this episode. We shall see . . . we'll have to wait and see if it amounts to anything.
What TV or movie references can we look for in this week's episode?
AB: I felt like we were actually basing it more on real life and coverage of actual political events. There's a bit of Hillary Clinton, I think, for what Annie is doing, and maybe even some Bill Clinton for what Jeff is doing. We tried to keep it pretty political.
DP: And I play Chelsea Clinton.
AB: Which is great because his hair is super curly.
To find out what else Brie and Pudi had to say, just keep reading.
Are there ever any references in the scripts that you don't get right away?
AB: Yes! That just happened in the episode we're shooting this week! Just yesterday Shirley says a line, and sort of in secret, I turned to Danny after we did a read-through of the scene. I was like, "Danny, what does that line mean?"
DP: And I was like, "No idea. Have never had an idea."
AB: So we turn to Gillian, like, Gillian, what does the line mean? Of course she knew immediately. I think between all of us, there's always someone who's going to know, and then there's this little thing called Google. So I think we have some help all around. I don't think of any of us turns to Dan [Harmon, the creator] and asks. We don't want him to know that we don't know.
DP: The good thing is that we have such a great collective ensemble. Someone's always around who probably has an idea of what's going on. It's just a matter of turning your head enough times, and someone will eventually tell you what you're talking about.
"Troy and Abed in the Morning" is such a great bit; any chance we'll see it incorporated into an episode, rather than just the end credits?
DP: This episode coming up [is] sort of similar in tone. It made me feel like we were doing "Troy and Abed in the Morning" a little bit. Because we're playing news anchors at GCTV. And we have our "Troy and Abed in the Morning" mugs with us; we have this whole background crew, except this is real. The other thing with "Troy and Abed in the Morning" is that I don't know how much we would have after our guests leave. Pretty much every time we do "Troy and Abed in the Morning," we convince someone to come, and they do, like Starburns, we give them a prop, and he ends up leaving. Or Jeff ends up leaving and yelling. Who knows? Maybe it'll get bigger and better.
Do Troy and Abed have any dream guests?
DP: I'd like to see Howard Stern . . . I'd actually like to see Chevy Chase. Not Pierce, but Chevy Chase.
How close did Annie and Britta get close to kissing on the Valentine's day episode?
AB: It was such a funny thing because it wasn't in the script, we just sort of improvised it while we were doing it, and then one of our producers was there and was like, "Oh that's so great, I'll just yell 'kiss her,' and then you guys do that!" And everyone behind the monitor was like "Yeaaah." It was clearly a bunch of dudes.
DP: Yeah, it was crazy that we were so excited about that. It was crazy to see that actually end up in an episode too, because we were so excited about it.
AB: I couldn't believe they kept it in, to be honest. But I have to say we really didn't get that close to kissing. I think we actually got closer to kissing in a photograph that one of our writers posted on Twitter. Like behind the scenes on set is just a bit more racy than our on-camera work.
If you guys were voting in this election, which Community character would you vote for?
DP: Starburns.
AB: I would vote for Annie. She would be the best. I'm not just saying this because I play Annie on television.
DP: Then why are you saying that?
AB: Because she's the smartest! And she cares the most about people. And she would work the hardest.
DP: If we want Greendale to get better, if we want to make sure it's getting better and growing, taken care of, garbage always taken out, inspections are up to date, then definitely Annie.
AB: But if you just want sheer entertainment . . .
DP: With Starburns, there would probably be one episode left, because Greendale would probably fall apart immediately; I guess we don't want Jeff to be president.