Interview With Kate Walsh and Taye Diggs About Private Practice and AddiSam
Kate Walsh and Taye Diggs Reveal the Future of "AddiSam" on Private Practice
Kate Walsh and Taye Diggs stopped by last week's TCA in Beverly Hills to chat about season four of Private Practice. Kate quickly joked that these days they're able to divulge more spoilers, saying, "It's no longer the pentagon. It used to be they'd take a digit for every story you told!" With that out of the way, Kate and Taye still don't know exactly whether the relationship between their characters Addison and Sam will be a successful one this season. They also spoke about Shonda Rhimes's vision for the show and how they deal when she takes their characters in surprising directions — as in Addison being with her best friend's ex husband. Here's what a very playful Kate and Taye had to say: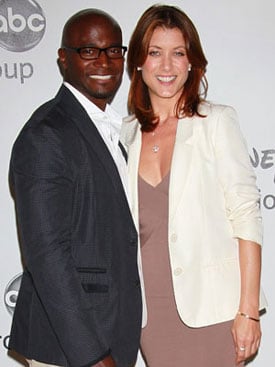 Where do we pick up when Private Practice returns?
Kate Walsh: There is a little bit of a time jump, but we're not clear how much time. I'd say anywhere between three days and three weeks. [Laughs] I got highlights, so it's been some time. A little bit of time and then we ease people back in with the story. There's a lot of coupling.
Taye Diggs: Things have progressed. There's a lot of marriage talk in the air. So some time has passed, enough for that stuff to have evolved.
What is going on in all the relationships when we meet back up with you?
KW: Well there's a wedding, and it's not us! So yeah, Violet and Pete. It's really lovely and amazing. You kind of see throughout the first episode the question is in the air — what about Sam and Addison? What happened with them the last time we saw them? She took her dress off. Someone tweeted that, "Come on, she took her dress off! Something had to happen!" I was like maybe she just got hot. . . .there's nothing you could say without sexual innuendo. So you see where we end up, but it's very ambiguous. All I would say is for that first episode you really want to watch every single minute, including the last couple of minutes. Or you will miss the F out. I can say that, right? I didn't swear I just said F.
TD: Especially the last couple of minutes. Don't miss out.
KW: You don't want to be that person whose TiVo cut it off and you're like wait, what happened? Then you find out the next day.
TD: You have to set it for five extra minutes
KW: Yes! I'd encourage that. I think you're going to enjoy what you see.
For more Private Practice scoop, just
.
Dell has left the building, can you tell us a little bit about the effects from that?
KW: We all sort of pick up and move on pretty quickly. Turns out we didn't really care so much about Dell [laughs]. We get really back in our self-involved lives. [At one point] Naomi says, "yeah . . . just thinking about Dell." She's the only one, it turns out, in the entire practice.
TD: [Chris Lowell] affected the actors far more. He's such a great young man. We miss him.
KW: [Laughing] I mean, he's still with us. He is alive! Let's be clear, Chris Lowell is alive.
Now that Sam is a grandfather, is there a chance Addison will be helping raise the baby?
KW: Who knows, maybe! We haven't seen that far ahead, but I imagine there's gotta be someone she's going to mother. We just haven't seen it yet, but maybe.
Perhaps we'll hear Taye sing a lullaby?
TD: A couple of seasons ago they played like Sam and Naomi couldn't sing. So now we're kind of trapped.
KW: Or they could just bring in Chandra Wilson to sing. They let her sing a lullaby [on Grey's Anatomy] — maybe we could do a crossover for one scene where Bailey is singing to the baby.
Shonda always thinks things out and has all these great reasons why she does things to the characters. Do you always agree with where she's coming from?
TD: Not always, but she has an open door policy and whenever we have questions, at least from my personal experience, we can chat it out. There's always a reason for the choice a character makes.
What is an example of one thing you may have walked into her office about?
KW: Well I love the AddiSam, if you will, relationship, but it's like whoa, what kind of person would do this? That's pretty far-fetched in my world. It's a very interesting thing to be like okay, I'm going to date my best friend's ex husband. I don't know how anyone does that. But that's the great thing about being an actor on TV — you get to put yourself in the mind of someone who would do that and have compassion for them enough to get through the scene. That's the fun of acting, but that was definitely like wait, seriously? Remember when Addison went on a terror last season [with men]? Just like boom boom boom, it was like everybody. Just like she's back in! She's back in the ring!
TD: Knockin' em down like dominoes!