Interview with The Office's Angela Kinsey and Ellie Kemper About Web Series "The Mentor" and Jim and Pam's Baby
Angela and Erin on The Office Baby — and Peeing Their Pants
It's a big day at The Office! Not only do we finally get a peek at Jim and Pam's little bundle of joy in tonight's episode, but Erin and Angela are working on a side project, too, with the latest addition to the show's online web series.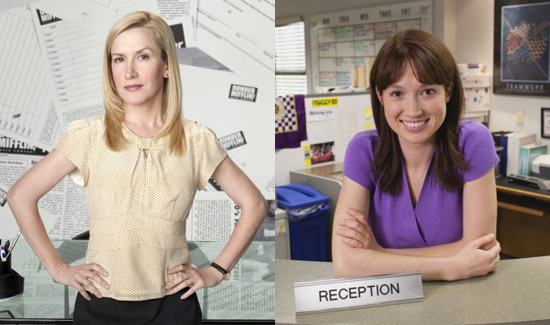 Titled "The Mentor," the videos follow Erin around as she learns the ropes of accounting under Angela's tutelage and becomes her mini me of sorts. Actors Angela Kinsey and Ellie Kemper recently sat down with reporters to discuss their new collaboration and their excitement over Baby Halpert.
Kinsey on how the baby will affect the show: "Our show is about an ensemble of people who work together. It's about Michael Scott and his co-workers. And anything else that's added to that is just a little bit of seasoning or spice; it's never the meat of a show, you know. And I think that this baby will be a little bit of seasoning sprinkled through of how it maybe is affecting Pam or Jim. But I think ultimately our show is about an office and that's what will be concentrated on."
Kinsey on how her Anne Geddes-obsessed character might dress up the Halpert baby: "I think come Christmas time I could try to make a live Nativity scene..."
To hear more tidbits from the ladies and watch a video preview of their series "The Mentor," just
.
Kinsey on why Angela befriends Erin in "The Mentor": "I sort of feel like Angela Martin wants a friend but she's so prickly that it takes such a tall order to be her friend. But, you know, she's not — she's not a robot, you know. She misses Dwight, she misses her friends, I mean, because I think he was her best friend. And, you know, I'm sure her ladies group at church is catty."
Kinsey on a Dwight and Angela reunion: "We're geeky militant soul mates. And [Rainn and I] hope that someday they find their way back to one another."
Kemper on Erin's new Angela-inspired wardrobe: "They're tiny, tiny buttons. I feel like my fine motor skills were completely...I couldn't button them they were so small. It is weird, it's like, yeah, it's a throwback to another era I guess. I liked it, but it was only because it was for one day. I liked having my hair in a French braid. I liked being sort of like uptight I guess."
Kinsey on Angela's advice for new couple Erin and Andy: "She'd probably tell Erin like, 'Really? Andy? Really? Walk away now fool.' And then she would probably tell them, because she's hypocritical, she'd probably tell them it's highly inappropriate; you shouldn't date at work."
Kemper on breaking character: "I think it's one of the most terrible feelings to have to hold in laughter...I have a problem. I haven't done this yet, Angela, and again too much information — I wet my pants a lot when I laugh too hard...I'm shocked it hasn't happened on set because it happens like, like in improv shows. It is that thing where you're holding in laughter and it's like — it has to come out!"
Photos courtesy of NBC