Interview With The Social Network Cast, Including Justin Timberlake, Jesse Eisenberg, Andrew Garfield, and Writer Aaron Sorkin
Jesse, Andrew, and Justin Spill About The Social Network
With The Social Network coming to theaters Friday, the stars of the film have been out in force to promote their project. We already heard what Justin Timberlake had to say about using computers and the Internet, but here's even more from him as well as Jesse Eisenberg, Andrew Garfield, and Aaron Sorkin. Check out what they had to say about playing real people and working with director David Fincher.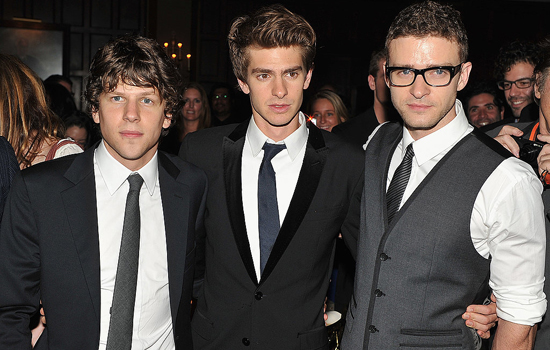 Jesse Eisenberg on his impressions of Mark Zuckerberg: "My impression is really formed more from the character; I don't know the real Mark Zuckerberg. I was, like everyone else, delighted to see this very generous donation made yesterday. As I said, I developed a great affection over the course of filming, and over the course of doing the publicity tour we've done, I've been asked that. The more I think about it, the greater affection I develop. In the movie, the character Aaron created is a guy who's desperately trying to fit in, who doesn't have the social wherewithal to do so, and I can certainly relate to that. He almost cocreates the tool to interact in a way he feels comfortable."
Garfield on his character Eduardo being a real person: "It was very strange, that kind of reality. It kind of makes you feel terrible that we made this film, in a way, that those people exist and their lives are being played out. But they seemed okay with it, which is strange."
Justin Timberlake on working alongside other actors instead of solo on stage: "It's more collaborative. Everything that I've put together on stage, I'm sort of the buck and everything stops with me. You have to instinctively trust what you're doing as much as everyone's offering things up with you. To get to toss the ball around — wow, another bad sports analogy! — with such great actors, it's a completely different, fulfilling, collaborative, creative experience."
For more from the actors, as well as writer Aaron Sorkin, just read more.
JT on how his touring experience helped his acting: "Putting together a stage production, on my last tour that probably took about 10 months from concept to actually getting to the first show. So it's very similar to theater, and you have a very long, drawn out, methodical rehearsal process, because you only get one take. You step up on stage and you get one pass at it, and it has to be workshopped in front of different types of crowds that you trust."
Aaron Sorkin on working with David Fincher: "It's not intuitively what you'd think of as the right marriage of director and material. David is peerless as a visual director, and I write people talking rooms. But David, first of all, embraced the fact that this was going to be a story told through language. But he did bring a distinct visual style to this, and he did, as a director, get sensational performances out of this very talented, but young, cast."
JT on shooting with Fincher, who's notorious for demanding 100 takes: "He does not get bored easily. And when I say easily, I mean at all. The specificity of his direction every take — there was no question in your mind what he was trying to get you to accomplish, what he wanted to see through your character. I've never seen someone so hyper-smart and multitasking."
Sorkin on telling a true story: "Anytime you write nonfiction about someone who's still very much alive, in a nonfiction movie, [it] makes a very loud cymbal crash around the world — it's a cannon shot that's hard to ignore. It's the thing that's probably going to give most people their impression of the person or an event. You're very aware that you have two important things in your hands. You have history and someone's life. So first — do no harm. You don't want to play it fast and loose with the truth; you don't want to mess around with anything."
Andrew Garfield on how he and Eisenberg bonded: "We'd share rides in together in the morning and eat lobster in Boston, crab in Baltimore. Wherever we were, we'd have the shellfish of that specific area of the United States. Little things like that."
Sorkin on the big takeaway from the movie: "I would never be unfair to anyone, whether they were a billionaire or a pauper. I don't think we're unfair to anyone in this movie. I think everyone gets their say, and I think by the end of the movie you want to give Mark a hug."