Interview With Zachary Levi and Joshua Gomez About Upcoming Episodes of Chuck
Zach Levi and Joshua Gomez on Chuck and Morgan's Bromance
Now that those pesky Olympics are finally out of the way, tonight kicks off the return of some of my favorite shows — and Chuck is right at the top of my list! The last we saw of Chuck and the gang, Chuck and Hannah were locking lips (much to poor Morgan's chagrin), while Sarah explored her feelings for Shaw. Zach Levi and Joshua Gomez hopped on a conference call with reporters the other day to chat about Chuck and Morgan's relationship and what's left for the rest of the season.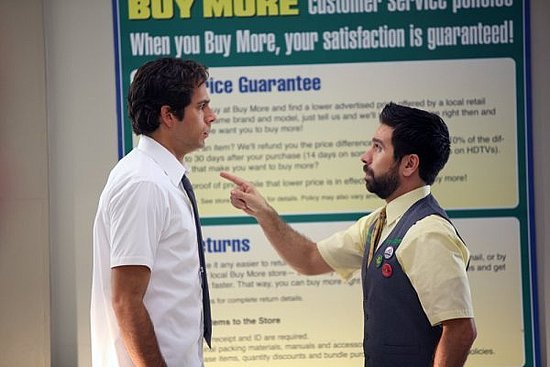 Gomez on the evolution of Chuck and Morgan's relationship: I think that Morgan and Chuck have both obviously and in sort of parallel ways mirrored each other throughout these three seasons in their own different ways. But they both have matured, they both have become different people from where we started. I mean, you look back at that and you go wow, you know, I was eating garbage out of a refrigerator in the break room and now, you know, now I still do that but less. And as an assistant manager I do it. So, yeah, (intending) with Chuck, you know, I mean, he's sort of — you know, he's obviously come a long, long way. So, you know, and I think their relationship reflects that, you know, they're sort of different men now and — but that's also — that also saddens me, you know, I miss the old Chuck and Morgan sometimes.
Levi on how Morgan's new role as assistant manager will affect Chuck You'll see how it, you know, progresses and affects both Morgan's character and my character, you know, and my ability to sneak out the way that I always do. I'm surprised it's taken this long to be honest. Like how do I keep leaving the Buy More and never come back with really any results? Maybe like a black eye. I don't think I've sold or fixed anything in three years.
To see what the guys had to say about a new love interest for Morgan and whether or not Morgan and Chuck will duke it out for Hannah, just
.
Gomez on whether Morgan will punish Chuck for hooking up with Hannah: I don't think Morgan would be capable. I think that it's an honest true friendship and I just think that if there's any kind of whatever, it's like hey, you know, I think it's always been a thing of like talk to me dude and, you know, Chuck's wanting to do nothing more than talk to Morgan. You know, if there was a person that would understand and be, you know, Chuck realizes it would be, you know, Morgan. Not that he wouldn't be maybe a liability to the world's safety but I just mean as a friend goes I don't think it's in Morgan's nature to, you know, do anything that would cause, you know, direct hurt to his friend, you know, or anything malicious.
Gomez on whether or not Morgan will get a new love interest: Nothing permanent that I think plays out in this season. But he stays the lone wolf. I think he has bigger things on his plate. And so, you know, Buy More is, you know, assistant managing is tough biz, no it's not really actually I do nothing. But, yeah, so unfortunately no.
Levi on Emmett's abrupt death: Very shocking and certainly, you know, kind of started the season off I think letting everyone know like hey there's going to be some gnarly stuff that happens. But it was unfortunate in many ways. I mean, Tony Hale is — I feel like I say the same thing about everybody who's on the show but — and it feels like, you know, when you say it about everybody maybe you don't mean it about anyone. But I truly do, and Tony Hale is wicked talented. So smart, so funny, such a sweetheart, was a pleasure to have him on the show and was really a bummer to see him shot. You know, we found ourselves in a place with the show where, you know, coming back by the skin of our teeth we didn't have all the resources in the world to keep the show going the way that it was going as far as monetarily being able to keep everyone around and, you know, we have a lot of cast members and a lot of people to service. And so I'm not sure all of the things that went into ultimately the decision of having Emmett go bye-bye. But I do believe that they, you know, that Josh and Chris and our other writers I think they handled it in a really good way. And I know that Tony enjoyed his time with us and, you know, and I hope that, you know, I hope that he gets to come back and play Emmett's twin brother or something, I mean. Or maybe Emmett's not really dead, you know, you never know.
Levi on Christopher Lloyd's upcoming guest spot: When I found out Christopher Lloyd was doing our show I think I had an accident in my pants. Now I just need a hoverboard and my life will be complete.
Photo courtesy of NBC