Iron Man 3 Comic-Con Interview With Robert Downey Jr.
Robert Downey Jr. Says He Takes Iron Man "as Seriously as Shakespeare"
Comic-Con is old hat for Robert Downey Jr., who returned to San Diego this year to show off next year's Iron Man 3. He was joined by director Shane Black, costar Don Cheadle, and Marvel producer Kevin Feige for a press conference ahead of the film's panel. Coming off the big success of The Avengers, it's no surprise that the guys fielded a lot of questions about how Tony Stark's newest adventure will affect his fellow superheroes. They also hinted at what's in store for Cheadle's character, Rhodey, and the romance between Tony and Pepper (Gwyneth Paltrow).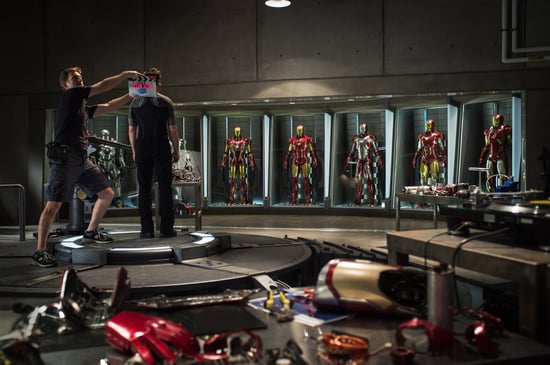 On how the story will be affected by the Avengers:
Robert Downey Jr.: I think Avengers surprised us to a certain extent. Looking back on it, you can kind of dissect why it was the right movie with the right people, with the right director, at the right time, and we feel the same way about this now. I feel that Rhodey and Tony had not entirely been explored as much as they might be, and that in the comics was always a big part of him, and to me, some heart of what was great about it. We try to be practical in a post-Avengers world: what are his challenges now and what are some of the limitations that might be placed on him and what sort of threat would have him, as usual, ignore those limitations?
Kevin Feige: "This is a very Tony Stark-centric film, meaning not just Tony, but his world with Pepper, with Rhodey. The grand plan with Iron Man 3 is to prove they are just as interesting, if not more so, by themselves as they were when they were all together in The Avengers. So Iron Man 3, by design, is a very serious character study. It's not a serious movie, but seriously dug into exploring more of Tony, of Rhodey, of Pepper, without calling S.H.I.E.L.D. and calling Thor, or 'I think Cap should be here in five minutes,' or any of that fun."
On romance:
Shane Black: "The remarkable thing that Jon Favreau managed to do is he established a precedent of espionage, high-tech, Top Gun-style thrills coupled with romantic comedy in a strange way, and it's always sort of been the mainstay of these movies. That's part of my favorite thing about it, too. The romance is definitely a part of this, and obviously we've got Gwyneth coming back, and time has passed. In The Avengers, Gwyneth and Tony are together, doing great, and living together."
RDJ: "Kevin said there's never been a movie like this, where your lead guy is in a relationship a the girl he's coming home to every night, who's kind of like Gwyneth Paltrow, telling him what to do. However, Rhodes is single!"
Don Cheadle: "Is this a dating service?"
On playing a hero:
RDJ: "I think I speak for any of us who get to live in this world — there's something about it that you just go, 'Wow, what a great opportunity.' It's an odd thing. I take it as seriously as Shakespeare."
To see what the panel had to say about War Machine and exploring Tony's dark side, just read more.
On raising the bar after The Avengers:
SB: "There is an idea about being big, but to me, it's an idea about capturing and redoubling the intensity that The Avengers managed to capture. That sort of lightning-in-a-botttle feel of really stuffing so much into a limited space. Robert refers to it as 'leaving it all on the field,' and I think that's what we're looking to do. Just get a ton of thrills in a short space and make a nice little stew for you."
On exploring Tony's darker side in Iron Man 3:
RDJ: "I think that's the big idea. But also, interestingly enough, this film has a lot of breadth to it. We realized at the beginning of Iron Man 2 that Tony's dying, wow. And then has a party. And then he's drunk, wow. And some people are going, 'We don't like him.' There's a way to enjoy all of that shadowy stuff. We just kept thinking about what would it really be like if this guy was in this country. And where else could he go in this country? And what sorts of themes and backdrops could we explore?"
SB: "Although Tony won't fall off the wagon."
RDJ: You haven't seen my rewrites. Rhodey picks him up at Betty Ford, scene two.
On all the Internet rumors about Iron Man 3:
SB: "The good news, and the fun thing for us, just in terms of the fan and the fan blogs, is just how much all the guessing is so wrong. Completely off base. I said, 'Let's just get someone in here to walk around as the most obscure Marvel villain ever and get some costume at Kmart and have that show up.' But we love the rumors. We love that — that's fun."
On whether or not we'll see Rhodey's alter ego, War Machine:
DC: "I do suit up — there are some different iterations that War Machine goes through in this film. It's fun to see those things sort of morph and shift. And the Iron Man suit is really spectacular in this one, the innovation that's happened with it."
RDJ: "I liked in the comics, too, that there was a bit of suit envy between [Iron Man and Rhodey]."