Iron Man 3 Review
Iron Man 3: Solid Gold
After great Iron Man movies and an Avengers film, it's fair to assume that it's only a matter of time before we get tired of seeing these guys. But Iron Man 3 is not only equally fantastic as its predecessors; it's also the most emotional and most focused installment in the franchise to date. The secret to the success of the film? Giving the audience something they haven't seen before: a different side of Tony, a brand-new suit, and a villain that hits very close to home. Of course, the magic of Robert Downey Jr. is the key ingredient in making these films endlessly fun.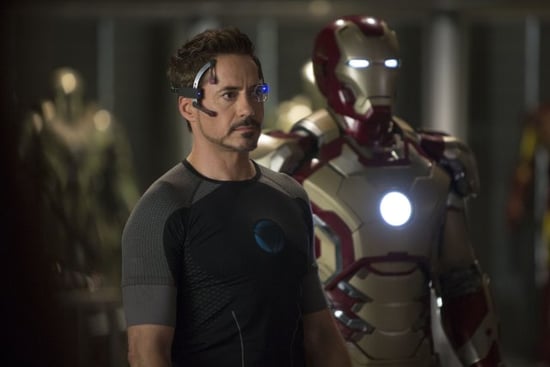 Iron Man 3 opens to the tune of Eiffel 65's song "Blue," which is fitting not just as a cue to the introductory '90s flashback, but because it describes Tony Stark's present-day state of mind. After coming face to face with some aliens (in The Avengers), he's tired, he's anxious, and he's feeling overprotective of his girlfriend, Pepper (Gwyneth Paltrow), all of which makes Tony even more relatable as a character. Superheroes: they're just like us! It doesn't help matters that there's a terrorist on the loose who calls himself The Mandarin (Ben Kingsley), and Tony's penchant for getting himself into trouble quickly makes him a huge target. To find out why Iron Man 3 is a must see, just read more.
The third film brings back the characters we love: Pepper is more kick-ass than ever before, and Don Cheadle is a delight as Tony's buddy Rhodey (who also clocks in plenty of screen time wearing his own iron suit). These guys bring out the most entertaining side of Tony by constantly bantering with him, and the film's script delivers the wit and dialogue we've come to know and love from these films. Franchise newcomers Guy Pearce and Rebecca Hall fit the bill as a couple of scientists from Tony's past who resurface, but Kingsley wins the award for most valuable newbie, delivering a performance that's both chilling and surprising. (Ty Simpkins also gets an honorable mention as a young boy Tony teams up with, simply for his ability to hold his own against RDJ).
Evolution is everything in this film, both on screen and off. Jon Favreau, who directed the first two Iron Man films, passes the torch here to Shane Black (Favreau still returns as Tony's trusty bodyguard, Happy). The transition is seamless; Iron Man 3 retains the spirit of the first two films and strikes an even better balance of drama and action. Tony's changing a lot too: he's vulnerable for the first time, which is a lot of fun to watch — mostly because the harder he tries to be an adult, the more his immaturity shines through. Even Tony's suit gets a face-lift that proves to be a game-changer for the film (as well as a clever way to show off special effects).
Iron Man 3 is the kind of movie that reminds you why the Summer blockbuster was invented: because it's so entertaining from beginning to end that you actually want to be cooped up inside a movie theater. Superhero fatigue may be imminent, but not if Tony Stark has anything to say about it.