J. Edgar Movie Review
J. Edgar: A Great Cast in a Dull Story
Leonardo DiCaprio is no stranger to onscreen transformation, and takes on the FBI's first director, J. Edgar Hoover, in Clint Eastwood's biopic J. Edgar. With the help of makeup, a Southern accent, and some idiosyncrasies, DiCaprio seamlessly shows us Hoover as both the hero that took criminal investigation to a new level, and the villain who resorted to questionable methods to get there. Though DiCaprio's performance is engaging, the film isn't on par with Eastwood's finest films.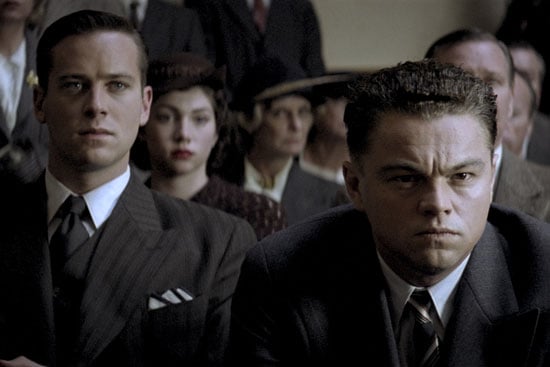 The story is told in Hoover's words, as he relates his career to various young men who are helping him transcribe his life story. The juxtaposition of Hoover's life as a young man (beginning at the start of his career in 1920) and his final years echoes the film's theme of dichotomy. As the FBI's director and a public figure, Hoover is arrogant, stubborn, and adamant about what he wants. Behind closed doors, Hoover is still a scared young man who is paranoid about losing his power and struggling with his sexual identity.
To see why J. Edgar left me feeling underwhelmed, just read more.
Hoover values loyalty more than anything else, which is where Armie Hammer and Naomi Watts come in, as Hoover's right-hand man and secretary who stick by his side until the day of his death. As career-focused Helen Gandy, Watts is restrained but solid, but it's Hammer as Clyde Tolson who really shines. Hoover hires Tolson as his associate director, but the relationship quickly comes much closer. As Tolson and Hoover dance on the line between utmost confidantes and lovers, Hammer humanizes a character who otherwise could be written off as a tall drink of water who lingers in the shadows behind Hoover.
Eastwood is successful in taking us back in time, through decades of Communism, Prohibition, and war, in a way that feels authentic. The film is peppered with notable public figures that run the gamut from Richard Nixon to Charles Lindbergh to Shirley Temple. Eastwood uses notable events like Hoover's investigation of the Lindbergh kidnapping to tell the story, but he doesn't go deep enough to create a gripping film. We scratch the surface of the events that shaped Hoover's career and the secrets he kept hidden, but the film falls short of truly striking a chord with the audience.
Clint Eastwood finds drama in Hoover's private life, but he treads lightly instead of diving in headfirst with J. Edgar, and the portrait he paints feels incomplete. He provides us with all of the key facts but doesn't fully patch them together into a compelling story.