Jack the Giant Slayer Movie Review
Jack the Giant Slayer: Magical Beans Cultivate a Whimsical Story
Successfully reimagining a classic fairy tale is a tough job, but Jack the Giant Slayer sufficiently blends old and new elements to create a story that is entertaining for all ages, even if the 3D is a little dizzying. The story centers on Jack (Nicholas Hoult), a poor farm boy who, in a moment of weakness, accepts some enchanted beans from a monk in exchange for his horse. Though the monk warns him not to get the beans wet, inevitably it rains, and lo and behold, a monstrous beanstalk shoots up through Jack's home. This in itself is an issue, but the greater problem is that the kingdom's runaway Princess Isabelle (Eleanor Tomlinson) happens to be trapped in Jack's house at the top of the beanstalk. Also at the top of the beanstalk? Man-eating giants.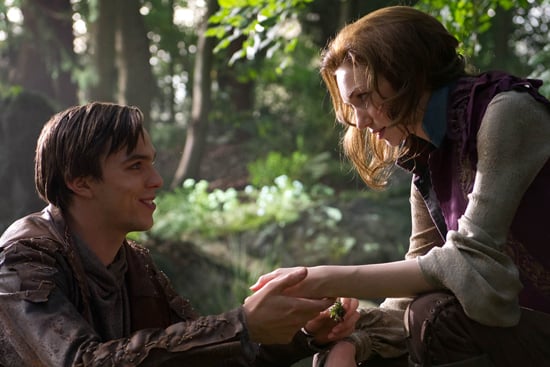 Hoult is an ideal Jack — not a boy, not yet a man. He lends just the right amount of innocence and determination to the character, attempting to prove himself and earn the love of the damsel in distress. In fact, the film is well cast all around: Ian McShane and Ewan McGregor also star as the king and his army captain, respectively. Stanley Tucci plays the king's scheming aide, whose evil intentions make him an even bigger obstacle for Jack than the giants. The characters are classic, but the actors make them feel fresh, thrilling, and funny. To see what else I thought about Jack the Giant Slayer, just
.
Though it may seem like a movie strictly for kids, Jack the Giant Slayer definitely earns its PG-13 rating with gruesome visual effects, some of which are borderline disgusting in 3D. Care to see up a giant's nose? How about a close-up on his revolting face? At one point the 3D takes the audience into a giant's mouth and all the way down to his stomach. Lanky and alive, even the beanstalk is gasp-worthy in such great detail.
Jack the Giant Slayer undoubtably has some some unoriginal characteristics, but many of the whimsical elements are sure to incite nostalgic fondness in viewers. It's a perfectly pleasant — though sometimes memorably gross — journey.