Jaime Pressly Talks About I Hate My Teenage Daughter
Jaime Pressly Talks About I Hate My Teenage Daughter and Being "Very Scared" of Getting Pigeonholed
Jaime Pressly and Katie Finneran have some formidable foes in their new Fox sitcom: their children. The two actresses star as BFFs and mothers on I Hate My Teenage Daughter, and the funny ladies visited the TCA to talk about the "hormone hell" they think parents will be able to relate to on the show. Pressly also talked about her fears of getting pigeonholed because of her previous work on My Name Is Earl. Check out the highlights of the panel below.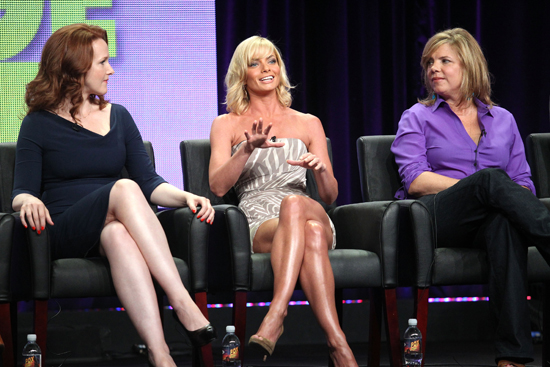 The cast seems to know that the title sounds a little harsh, but Pressly wanted to clarify that the title isn't the pervasive feeling of the show, but the point that your kids can sometimes drive you to. Pressly said "every parent has that moment where they want to break down and just scream." The actress thinks the show is relatable to many people, but parents of teens especially, who Pressly thinks "will be able to escape and realize they're not alone" in the "hormone hell" they're in with their children.
Pressly and Finneran talked about what they were like as teenagers, and Pressly said she was "treated like dirt by the mean girls," in North Carolina until she moved to California, describing her young self as an outcast and a tomboy. Finneran seemed to have it easier, saying she was friends with everybody — "the nice girl, the designated driver."
The actresses who play the mean-girl teenage daughters, Aisha Dee and Kristi Lauren, seemed to be far nicer than their onscreen couterparts, though Lauren joked that her parents are worried she's "going to turn into her character." Dee said it was "fun to get to play the kind of person everyone wants to be," to which Pressly (who has lots of antagonistic roles on her résumé) cracked, "flat out, it's fun to play the bitch, ask me."
Pressly is best known for her Emmy-winning role of Joy on My Name Is Earl, but she copped to her success being as much of a curse as it is a blessing. She was "very scared that I wasn't going to be able to get another show for a very long time," because "it's so easy to be pigeonholed" now that so many people associate her with Joy. Naturally, she said she was very grateful to the showrunners of this show for bringing her on.